Discussion Starter
·
#1
·
So, my daughter has decided she wanted to base this year's party on the Salem Witch Trials. Since that is just too specific, I decided we will do witch hunts in general, using references from medieval times as well as Salem. To start with, we're going to do a Clue-type mystery scavenger hunt where kids will have to search for potion ingredients and cast spells to find the witches. I have an old playhouse that I will turn into a witch's shack. I'm thinking I'll have nooses hanging from a tree, a stockade prop from Oriental Trading for the photo booth and a witch burning at the stake using burning logs I made (using tutorials from here) and a flaming cauldron hidden in the stacked branches. I'm also trying to figure out how to incorporate a fortune telling, gypsy witch kind of area. I'm thinking one of those hanging tents with a table inside?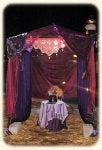 Stockade I bought from Oriental Trading
Inspiration photo for my burning witch. What I have in mind won't be this large, though.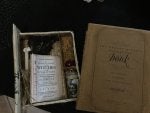 My invitations. It's supposed to look like a spell book. The spine pulls out to reveal a box of items needed to cast spells, including a small potion bottle and copies of newspaper articles from the Salem Witch Trials. My invitation will be rolled into a scroll. I just haven't added that part yet. I'm not happy with the spell book binding, so I'll end up changing that.
Does anyone have any other ideas that I can do? I would really love to get some ideas for favors, too.