Discussion Starter
•
#1
•
Hey guys,
I'm over the moon that i have found this forum!! Trust me i am really needing it. I'm ashamed to admit but this years Halloween wen't all wrong in the props and decoration side of things. Usually every year my misses would get everything ready and arrange the Halloween decorations throughout the house. This year it's a little different without that women's touch, i just had sh** everywhere and my front yard and house looked terrible compared to everyone else on the street. So next year i am going to have to go next level and plan ahead unlike this year. I have been thinking of a "Freddy Krueger" theme for next year, first off i want to make my own costume! i don't just want to buy one online from a random site like
http://www.easyprices.com/fashion
because that is where every other person will be wearing/using. I want to make it scary as hell but i am terrible with coming up with ideas when it comes to arts and crafts. So basically i know this is terrible but i need some ideas guys that i can start creating now getting myself prepared for next year. I will be the scariest house on the street.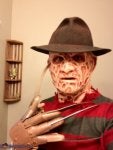 All of you thoughts and ideas are welcome guys!! looking forward to chatting to everyone!
Thanks