Discussion Starter
·
#1
·
Here is my 4 bar pneumatic pop up. Last year I had a Blucky on a wooden pop up using a door closer actuator but it was just to fast and slamming down. So this year I wanted a bit more control and professional feel to it.
The frame is 2x4s. 3/4 pvc for the upper arm and a steel 1/2 tube used for the lower bar. I got the 3/4 inch bore, 6 inch stroke actuator at Grainger for $31. Plus some speed control valves which really help to control the slamming. I think it is running at about 65psi right now.
That tombstone will probably changed out for a bigger one or a homemade one. It is a bit small.
Oh yeah, one more thing. Any suggestion on how to hide the structure? I was thinking of building something with the pink foam board I got from a job site. Maybe some kind of tomb or something.
Any advice or constructive criticism is always appreciated. Thanks for all the help from everyone when I had questions.
If any one has any question on how I did anything , ask away.
Here are some pics and a video.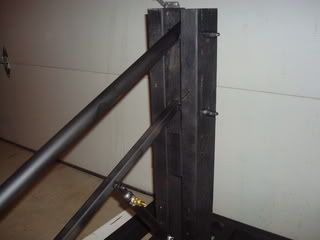 YouTube - MOV02115
YouTube - MOV02104