Discussion Starter
•
#1
•
A couple of years ago I made a tree stump to hide my projector and electronics for my singing Pumpkins display.
Thought I would share how it went since I took photos of the steps to build.
So far 2 VERY rainy years in Seattle have not damaged my expensive projector while it has been inside the stump.
I have the Projector, DVD Player, FM Transmitter located inside
Here i have cut out the plywood bottom in a random pattern, cut several circles for the supports, note I have cut a concrete tube then stretched it (about 2/3rds of the tube) next photo shows the 2nd piece also about 2/3rds of a tube nailed on. You may be able to fins a larger tube and not have to cut the tube to create a larger cavity but my local Lowes had one size the day I purchased mine.
The trick is to make the inside larger than the biggest piece, in my case it was my projector, my only regret is not making it even bigger than I did so plan ahead.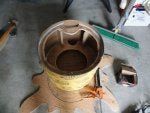 Here both sections of tube are attached to the frame
Here I have cut pieces of Blue foam and glued to the outside of the tube, note over lapping is ok before shaping the stump, if you have bare spots thats Ok because the next step is to use Insulfoam from a can to fill in the bare spots.
Here it is after shaping with a ordinary hacksaw blade, Im sure you could use a grinder or a wire brush on a drill also to shape the stump
This photo shows the 2" tube I put into the bottom to run wires in/out for power and audio cables, I started with black paint to disolve the foam a bit then went with brown, green and grey followed by a coat of dry white wash to help bring out the shape.
Finished project with Projector running through hole below branch
I have the Projector, DVD Player, FM Transmitter located inside.
Another shot from the back of the stump showing the singing pumpkins video, I did have to shape the opening a bit more to accomodate the projection but not too much. To make the rings on the lid I used a hot hanger (From our closet) heated up with my propane torch and ran it around in circles.
Thanks for Looking!