Discussion Starter
·
#1
·
Hello.
So every year I grab more and more of those lighted pumpkins to the point where I have a good sized pumpkin patch that the kids really like.
Time to make it a little evil and scary by combining it with my graveyard stuff.
I wanted to add this from Home Depot but I didn't see it until after Halloween and now it's been discontinued.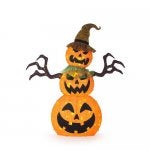 So now I'm going to make my own.
I have a good sized snowman figure, wire frame with fabric type of thing.
The fabric didn't survive last Christmas so.... time to go Dr. Frankenstein on it!
What kind fabric do you folks recommend?
I looked at a local fabric store and didn't see anything orange that would allow some light to show through but I might have missed it.
Does that type of fabric have a name?
I'll need some in green for the hat and black for the arms too.
Some thick bendable wire for the arms and hat and black fabric for the cutout faces which should be easy to do.
I have plenty of mini led spotlights to light this sucker up so I guess it doesn't have to be see through fabric.
Any thoughts or suggestions?