Discussion Starter
•
#1
•
Wall of Wonder / Magic Mirror
I have seen the haunted picture frames and the smart lcd mirrors and wanted to do something that combined the 2 ideas.
Started last fall when I came across this nice looking oval mirror frame. (this image was taken after cutting acrylic to size and applying the mirrored sun tint to it)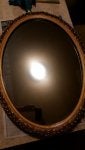 But then I wanted to figure out a way to display it. I ended up coming up with a plan with a friend (who helped quite a bit along the way with this). Lets build a wall.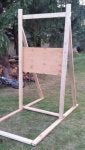 Lets attach a 27" LCD to this wall and do a quick test with video and some wall lights added temporarily. Need to play with lighting arrangements and LCD contrast still.
Add some supports for a wall panel and flooring.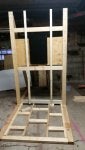 I need to keep people away from touching mirror.
Added the wall panel (deep discount panel from local hardware store)
Added a wall vent for added surprise.
Obviously still a work in progress, not too far to go now. Get everything mounted, trim added, frame hung, and ....