Discussion Starter
·
#1
·
Been a while since I posted, but after many years of a basic graveyard and POTC theme, I decided to completely change this year and went with sort of a 'post-apocalyptic Wonderland' theme (although frankly it wasn't nearly as 'post-apocalyptic' as I would like).
A few ToTs were diappointed that I was missing a couple props that I normally have (I had a suspension bridge over a lava pit and a big tree stump they had to reach into to get their candy), but most everyone had very positive comments (especially folks with younger kids).
I did the whole thing sort of 'spur-of-the-moment' (didnt' even start until October) but based on feedback, I plan to keep the theme and expand significantly for next year. I just need to figure out how to incorporate the suspension bridge and add some stuff. I welcome feedback and any suggestions on how to increase the 'dementia' a little more for next year.
My Caterpillar was looking more 'whimsical' then scary or disturbed. Didn't have time to really modify him so just stuck a Hannibal Lector mask on for now.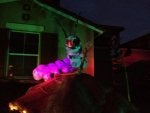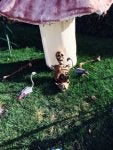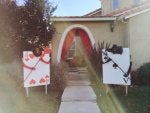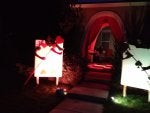 The giant roses are connected to a wiper motor/cam mechanisim underneath so they lean forward to 'attack' folks as they walk by.