When I realized it was only three and a half months until Halloween (sounds much worse than 103 days, huh?) I knew it was time to start working heavily on my costume. I'd already collected a few items, but it's a very detail oriented costume, so the sooner the better.

Here's my initial sketches (trying to decide between sleeve types on the right)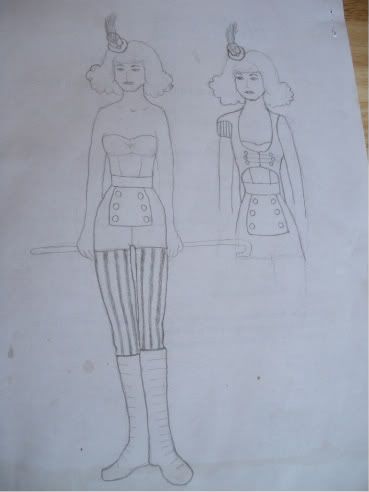 Here's what I have so far:


a tiny hat


these tights


a whip


adornments

My question is, with the hat I had planned on a feather on the front like this:


(love this hat!)
But I'm not so sure about it now that I did a trial run.



What's your vote? Feather in front, feather in back, or no feather?
The hat will definitely have the gold trim running around the middle and maybe the brim, and an adornment made of several gold buttons, if that makes a difference.