Discussion Starter
·
#1
·
It depends on if I can figure out a way to feel safe about it again.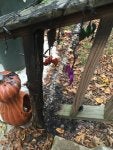 \
So this happened today. It seems to have happened before the power was even turned on, though I'm not sure how it could unl;ess they came on almost an hour earlier than they were set to, or possibly didn't turn off last night.
At first I though it was these that cause it:
... but on further inspection it may have started between two LED strings. This is the terminal outlet plus on a string of purple lights from Amazon.
I am leaving them in situ for an electrician friend to come inspect them tomorrow and help me figure out what happened.
I always cover any exposed plugs with gorilla tape. I never string more than 3 untits together. We have had a lot of rain but that is normal and happens every year.
Bonus, look how that plastic broder fencing from Lowes just went like a fuse.
After a an anti-anxiety attack pill and a beer I am at least calm enough to talk about it. I don't know if I am going to be able to bring myself to decorate next year after this happened. If I burned down the house and killed my cats with this crap I don't think I could ever function at all again.
EDIT: looks like the lights I now suspect are actrually from HOME DEPOT, not Amazon.