Discussion Starter
•
#1
•
Hey All,
I've been pretty quiet around here since joining awhile back. We've been hosting Halloween parties for 4 years now and figured we should post what our setup was like!
Now, I know it's rather lacking in the decorations area, but we've been building it up over the years. It really started as being just a party that was on Halloween (my fiancee and I LOVE Halloween, but no one else used to be that interested), so it's still transitioning to a full blown Halloween Party.
Anyhow, we had a disaster last year. Overspent, ran out of time, didn't get half of our stuff up, and were just plain stressed the first half of the night. This year was a bit smoother, though we were still getting stuff ready when guests arrived.
We had a rather loose theme, kind of around urban legends and phobias. My fiancee was Bloody Mary and I was the "Hook man". Here are some of the highlights, along with photos and a video walkthrough below (though it's really dark, sorry!).
Food:
- Fried Vulture Gizzards (Pizza rolls)
- Troll Fingers (little smokies)
- Rusty Razor Blade salsa (medium)
- Hellfire salsa (same salsa laced with Dave's Total Insanity)
- Cheese and sausage platter
- Popcorn (we have a bar type popcorn maker, bought from a bar that was closing down)
- Other items that guests brought
Beverage:
- Pretty full liquor collection (including caramel apple shots)
- Black Death jello shots, ~30 (blackberry fusion, black cherry syrup, lots of vodka)
- Orange Cream jello shots, ~30 (orange jello, vodka, whipped vodka, vanilla extract)
- Sour Cherry Lime jello syringes, 25 (cherry jello, sour cherry syrup, vodka, cherry schnapps, lime juice)
I'm also a homebrew, so we had on tap:
- OktoBOOfest Ale (Vienna style ale, 5%)
- Caramel Apple Cider (7.8%, wheee!)
- Children of the Corn Cream Ale (Cream Ale, 4.8%)
Entertainment:
- Linux-based computer jukebox setup with ~5000 songs, anyone can go up and pick songs to be played next, otherwise plays from a base playlist
- Karaoke, with about 4000 songs. We don't switch to this until around 10pm
- Costume Contest, Best costume with 1st, 2nd, 3rd (next year we need to make the prizes NOT drinkable, we had liquor prizes, first was a 200ml water bottle vodka thing, guy drank it over the next 20 mins)
- TEMPT YOUR FATE! (This was by far the most entertaining!) For this I had a special soundtrack I made that we would add to our jukebox queue whenever we wanted to get people's attention to play.
This year I built a "tunnel" around the entry door, so people walked in through fog and strobe lights. It was pretty cool, but another guy was a bit tipsy and tried to go out there for a smoke, fell smack into a wall
Outside one of the back doors (with a glass window) we had a scary clown hanging with a strobe light that strobed every few seconds. People inside would barely catch a glance, but it seemed to freak people out
I also made an enclosed tunnel exiting the kitchen, around the hallway to the bathroom. I had red flicker lights and had an overall haunted house feel. In this hallway I had speakers that played a soundtrack of whispers speaking latin phrases and ghostly sounding background sounds. The whispers shifted from each speaker. At the end of the hall we always do a "photo" area, kind of a background where people can take photos.
Later in the night we switch on a light ball thing and go into karaoke mode. You can see this near the end of the video.
Anyway, hope you all like it! We are hoping to have something even fancier next year! We had about 27 in attendance (inlcuding us), and had numerous people all tell us that our party is permanently on their calendars. One even remarked "unless you specifically cancel it, we're going to be at your door every year".
One issue we've been having is it's too much of a drinking party. It goes fast, people get lit up a bit too early. I think we also keep it a bit too dark. Next year we will focus more on the games, make it a little better lit (for the first couple hours anyway), and hope that will help.
Cheers!
Kosch
P.S. sorry if this is overkill for such a post
Video Link:
http://www.youtube.com/watch?v=aMgdkbgvYp4
Collage done by one of our guests
Inside of the entrance "tunnel"
Shot of the seating area, old tree branches used for decoration
Popcorn machine
Hand cut vinyl decals made by another guest
Window where the clown hangs outside of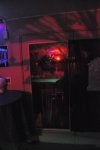 Karaoke/Jukebox setup (dual monitors)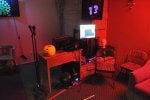 Dartboard with UV paint and blacklight
Other side of Karaoke/Jukebox
Wide shot showing pool table
Popcorn machine and Kegerator
Liquor setup
Photo backdrop at end of hall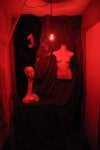 Ghost candy dish
Entrance from the kitchen to the haunted hallway
First inside of the haunted hallway
Another corner of the main room
Webs over pool light
Enthusiastic party guests