·
Bringing the Dead to Life
Discussion Starter
·
#1
·
Here is my version of corpsing the Talking Thru Boris skull. If you have one of these lying around, I suggest you try this project. It's easy and fast (less than an hour per skull), and the corpsed skull looks much better than it did before.
First, I opened the skull and cut the wires to the LEDs and speaker. I wouldn't suggest leaving the speaker in. Its a very low quality, muffled speaker. You can leave the LEDs in if you want, but I chose not to.
I used the old cotton ball and latex technique, stretching the cotton across the eyes like eyelids, and made it look like decaying cheeks, and across the nose. Make sure that you do the corpsing for the cheeks with the mouth completely open, so that it can talk correctly when the project is done. Finally, I brushed some brown shoe polish across the latex, and covered it in enamel spray paint coating to give it a shiny gloss, and protect the polish.
Here are the pictures. Let me know what you think, and I hope you try this easy project.
Before Corpsing: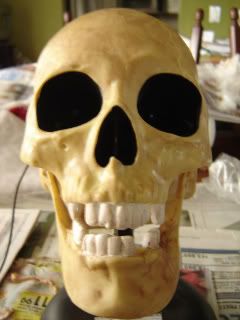 Starting on the jaw: