Discussion Starter
·
#1
·
As I mentioned in the Theme for 2015 thread, I want to do a medieval/wizards/LOTR/Excalibur theme for 2015. One of my props is going to be Merlin conjuring over a cauldron and, excuse me for bastardizing the story of Excalibur, him raising a sword out of the cauldron.
The problem is having a tall enough cauldron that the sword will look impressive coming out of it.
Driving home Monday night and I happened to see something big and black on the sidewalk. I thought, no freaking way is that what I thought it was. Get a quarter mile down the road to a turnaround spot, head back, and sure enough. It's a huge black landscaping pot used for trees, perfect for my Excalibur cauldron.
It's obviously used, but it's in great shape.
I'm going to use it epoxied on top of a rope-handled bucket and make a super cauldron. With those two stacked, I'll have a full 36" of depth to play with. Using a foot or so of sword already projecting out of the top of the upper cauldron, I can make a pretty respectable sword rise from Merlin's cauldron.
Here's a shot of a normal rope handle bucket next to my find.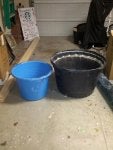 Doesn't look that big until you stack 'em.
And then compare the stacked cauldron size to a normal rope handle bucket cauldron.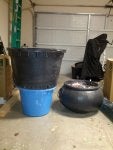 Needless to say, I'm pretty stoked about lucking into this thing. It also might give someone an idea for building a really big cauldron by maybe hitting up a landscape company and offering to take one of their tree buckets off of their hands if they're willing to part with one.