Discussion Starter
•
#1
•
Alright so after much perusing for ideas I took a little bit from the work peapole have done using PVC and Foam to come up with my swamp house creation for 2016.
Here are some pics from start to finish.
Using the standard 4x8 sheets of 3/4 inch insulation foam I started to cut out the body of the swamp house. Then the fun begins. I originally drew out wood grain and used a dremel to carve out the grain. This approach looked good but more cartoonish than what I wanted.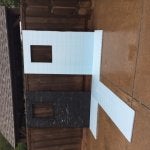 Using a hand file I was able to make a visible gap between the wood slats. Typically I would not use spray paint on foam as it eats it up pretty fast. However it actually gave the wood grain more definition. Where I tried to dremel knots in the foam I would use more spray paint to eat away some of the foam. This turned out great.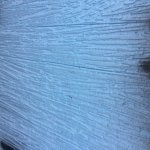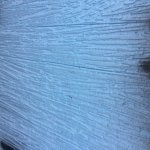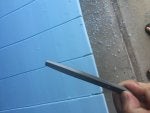 I used flat black spray paint as the base coat and used latex paint for the final coats. I suggest going to your local Lowes as you can always find very cheap colors of great paint in their discarded sections. This is just paint that was mixed customers didn't like. In order to keep a wood grain flow I used a dry brush approach versus slather paint onto the prop.
Beginning to assemble the project I used 1x2" boards and liquid nails. This worked best for me as I tried the aerosol adhesive and that ate through the styrofoam quickly. So don't make that mistake. I decided I needed to add a porch and a dock so I used a coarse file on pvc pipes to make the porch and dock posts.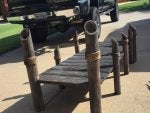 I used broken pieces of plexiglass for the windows, dressed them up with your typical Halloween cloth. The roof is plastic sheeting you might see on a greenhouse. I was able to pick these up for 5.00 a sheet but they were on sale. I wanted to incorporate a foggor so I added a 3" smoke stack. At first the fog would not move up the 3" pipe for 10' so I rigged up a 1" flex hose to the fogger and ran it to the top. This worked great. I added some orange Halloween xmas lights at the top to illuminate the fog. I have the fog timer set to go off every 15 seconds for 2 second durations. This provided me a slow steady seep of fog out the stack. Looks pretty good.
I added some flicker attic lights, lanterns, cricket, frog and banjo ambience for affect. I have two talking skulls I plan on incorporating but I'm running into trying to find good hillbilly banter audio. If anyone has any ideas I'm all ears. I'll see about adding a video.
Enjoy