Discussion Starter
·
#1
·
I did a search and did not see that anyone had already posted this...
Allen Hopps has done it again. He posted a tutorial last month on how to make your own 24 inch pumpkins (for haunt filler) by using a beach ball and Great Stuff spray foam insulation for about $10.
Other folks have certainly made GS pumpkins, but this is a new 'fast and easy' tip!
Dude is a haunt genius! Here are the links. He did an extended version and a quickie.
Here is my first attempt at same. Now I had some issues with an old can of Great Stuff giving me grief while I was doing this (nothing to do with the tutorial) and chose to rasp off a few boogered places (that is why the surface its rough in spots)... but I am in LOVE with this method. I love the storybook feel to the pumpkin. I think with a little practice you could knock out a pumpkin patch if you wanted to!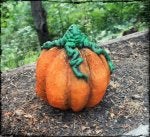 I hope someone else is as excited with this as I am. Come on back and show us your pumpkin(s) when you are done!