Discussion Starter
•
#1
•
I'm going to start making my haunted trees and glowing logs that I found on here to go with my witch theme. I'm waiting for my supplies to arrive so I can start. A few frustrations is trying to buy supplies here in the UK. Either very expensive or extremely hard to find and I can't decorate until actual Halloween day because of stealing. The first Halloween here I only had a bowl set out, unattended, and that was stolen. And we have a seriously tiny yard but that's pretty typical of England.
I'm still so excited! I'm sure my yard from last year was on several British facebook pages. I also want to make some kind of hooded figure holding a lantern pointing towards down our street to guide people to our house. Of course that will be attended.
Anyone else starting on crafts? When do you normally start? Does anyone usually keep the same theme year after year like me and just add to it?
Here's my tiny yard and tiny display (but huge here in my area). I want to add 2 haunted trees on either side so the kids will have to walk between them to get the candy. I also want to place more spider webs to kinda "funnel" everything to me. We'll see what I can come up with!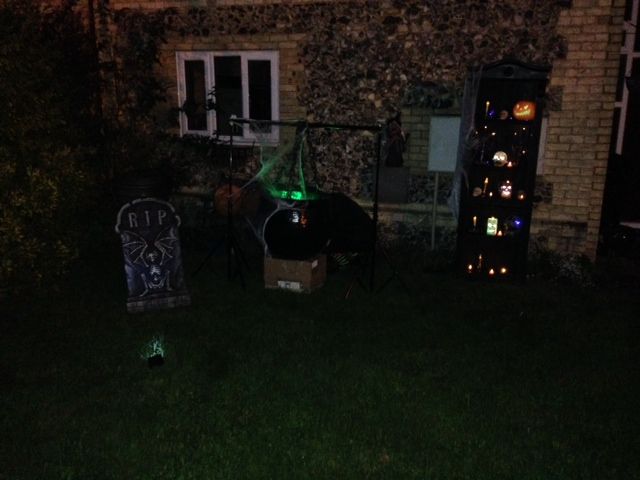 Here's me in my first makeup, I look super silly cause my makeup sucks but I loved it anyway!
Here it is in action!
http://youtu.be/nCHHiBs6Np8