Discussion Starter
·
#1
·
I decided to make a spooky tree this year as my big project. I'm not sure how well it will hold up but I think it looks pretty good. For refrence, the tallest point on the trunk is 6 feet.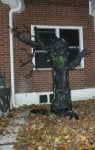 It's slotted steel/zinc bars for the base, covered in chicken wire, lined with black trash bags, then Gorilla tape over all that. Finally the bark is made from heavy duty aluminimum foil attached with the 90 adhesive spray and spray painted matte black. It's lit with 2 of the green fire/ice lights inside it, backlit with a red LED flood.
I am going to see how well it holds up before I add a bat hanging in the branches or anything else.