Discussion Starter
·
#1
·
Since it's been a million years since I contributed in a meaningful way, I figured I'd try to give a little tutorial on my interpretation of a PVC candle. The pictures were taken with my phone, so you'll hafta forgive their quality. I like the idea of the PVC candle, in that they're cheap and you can do them the size you like... but I've always been disappointed with they way they look lit up. Real wax candles are somewhat translucent, you can see the flicker of the flame through the sides, so I decided to try making them with a clear material.
Available at Home Depot or anyplace with lighting supplies, they sell clear tubes to put over and protect fluorescent tubes. They come in lengths from 4 to 8 feet, and are $1-$3 a piece. They just happen to be the perfect size to fit LED tea lights into.
Tube Guard: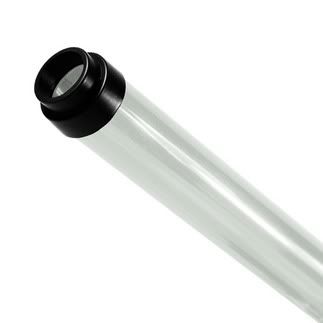 All righty, take that sucker home, cut it to the lengths you wish. This stuff is easy to cut with scissors, so we're already a little ahead of the game of PVC. After it's cut, add you wax drips with a glue gun, just like you would for a PVC candle. Go crazy with it. Here's one of mine after the glue cooled.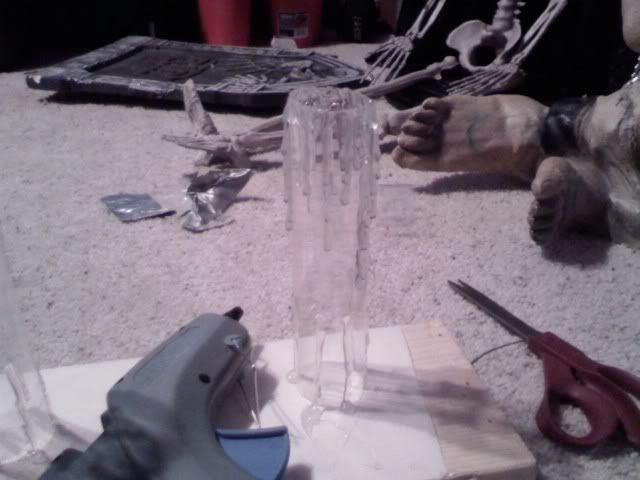 Looks pretty nifty, eh? Take that baby out to the garage and hit it with the spray paint. I'm sort of partial to the Krylon Fusion, but other kinds work just fine. I generally go for a bone color or off white, since dark colors will tend to kill the effect we're going for. After painting, we have this: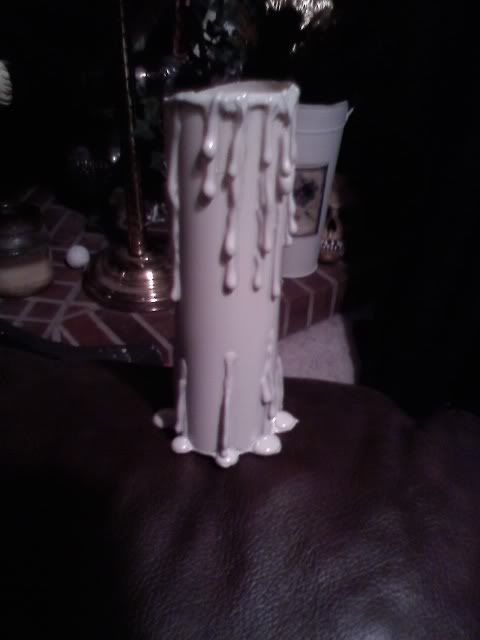 Revel in it's majesty for a moment. Now... to situate the tea light inside, you have a few options. Stuff a chunk of foam down into the tube a bit to support it, or fold a toilet paper tube long ways so it will fit down in there. End result is just to have a place for your tea light to sit. Once that's done, drop in your LED tea light and you're pretty much done.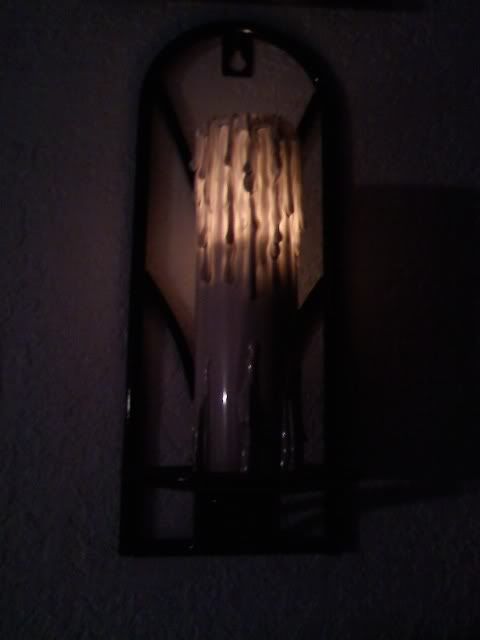 As you can see, the light comes out the top AND the sides of the candle, giving a happily creepy look. I put the tea lights down far enough that I can't see the LED tip, but that's just my preference. So there ya have it. A cheap LED pillar candle that looks pretty dang real flickering away in the hall. Yee haw.