Discussion Starter
•
#1
•
Had a few requests for more pics and answers to how i did this prop, so here goes the tut!
Igredients I used:
Styrofoam Coffin (
www.spookyblue.com
)
4 Walgreens Skeletons
2 - 10' 3/4" pvc pipes
4 - 4' rebar
Florist Wire
You need to take the skeletons apart in the middle of the spine, and use a knife of some kind to enlarge the holes in the spine so the pvc can fit through all the way up to the base of the neck. Cut a hole in bottom of the pelvis as well. WHen you do this, you wont be able to screw the two back together, so I put a small screw through the spine of the bottom half of the skeleton into the pvc to hold it in place.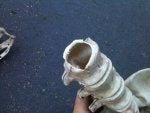 I painted the pvc flat black and cut to length so that when inserted, the skeletons feet would just barely sit on the ground.
Pound the rebar into the ground, then slide the pvc over that, then the skeleton.
WHen i got the legs where i wanted them, i put a screw through the pelvis into the top of the leg bone.
I removed the inside arm of each skeleton and set the coffin on their shoulders. I used the wire to tie the shoulders of the skeletons to each other, and to the coffin itself. just punched two small holes in the coffin and fed the wire through. Did the same thing to hold the hands in place on the side of the coffin. First pic is looking forward from the back of the coffin.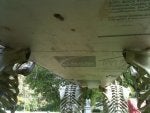 Thats basically it. I still plan on propping open the lid with a pair of arms and lighting the inside. may also put a small fog machine in as well.