Discussion Starter
•
#1
•
As most of you, I have a couple of large fog chillers but they do not do me any good for a single prop. I have a fog spitter I made last year and it spews fog perfectly and moves via a shiatzu. Problem is the hot fog spills into the night. So, I decide to put together a small, single prop chiller that anyone can do and that actually works. As you can see I used a small cooler and black hose. The key is to use dishwasher discharge hose. It is high temp hose, flexable, and bought cheaply at Good Will's and Salvation Army stores. The small cooler will nearly hold one bag of ice. I have 6 dollars into this setup.
As you can see in this photo I have the hose entering in the bottom right and exiting at the top. I used a small hole saw to drill the holes.
Here you can see the hose spiraled inside the cooler. I use two dishwasher discharge hoses. I use a glue gun to seal around the hose.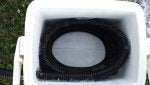 Here you can see the compete setup. Obviously I need to hit the cooler with a little flat black paint.
Spitter in action.
And lastly, as you can see the fog is laying down pretty good.
As you can see it works pretty darn good. I hope you find this quick tutorial useful.