Discussion Starter
·
#1
·
From my point and shoot and having to use flash. But the pro shoot pictures should be ready soon.
I also took a quick video

.
These are the best I could do considering I was being paged on the walkie talkie for all sorts of things as I tried to at least get a few pictures!!!!
Entry Chamber, Vampire Coffin Room, Vampire Dinner Scene, Frankenstein's Lab, The Witches' Swamp, and the HUGE double level Cemetery..... all below. Look closely for our "actors"--- all former students.
SET UP BEGINS
Pop Ups getting covered in black sheeting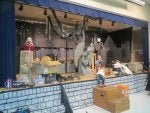 Cemetery in its early stages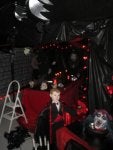 Vampire dinner Scene- early stages
Witches Swamp - early stages
Plants Vs Zombies Carnival Game I created (Was like a zombie dodge ball thing)
Zombie Kids performed the THRILLER dance every 20 minutes outside the Haunted House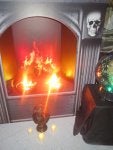 Fireplace in the Entry Chamber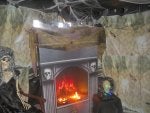 Fireplace in entry chamber
This couple greeted all guests to the haunted house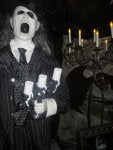 Jeeves and the cool candelabra I borrowed from work
Dracula in coffin
Vampire Bat and grandfather clock I made out of cardboard boxes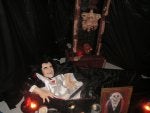 grandfather clock
Vampire Dinner Vignette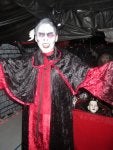 Mr Dracula - one of our High School Actors
Vampire Dinner ready to go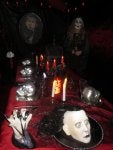 Vampire Dinner with silver skulls
Vampire - Headless boy from Grandin road dressed up a bit
Vampire dinner