Discussion Starter
·
#1
·
In celebration of "Halfway to Halloween" I thought I would share this with you. This thread also serves as a sort of memorial service for a six-month-old pumpkin who will very soon be thrown out.
In October 2010 I was asked to enter a pumpkin decorating contest, and I gladly accepted the challenge. I was eager to make a really awesome-looking pumpkin. When trying to think of something awesome that's related to Halloween, the first thing to come to mind was . . . well, spiders -- but the second thing was the wonderful character of Sam from the movie Trick 'r Treat. And the pumpkin I was supplied with just happened to be almost perfectly round.
So I painted the pumpkin with three to five shades of brown/tan paint (I did a little mixing between the shades) and a sponge technique to create as much of a burlap texture as possible. Then I took some real burlap, painted with the same exact paint so it would match, and superglued it to the bottom, adding a self-woven "rope" that I made out of twine. Then I painted and glued small pieces of the same twine to the pumpkin itself (sewed it down the center of the burlap) to look like the seam of stitches down the center of the hood, and Sam's trademark smile. Next, of course, came two large black buttons (with twine detail) for his eyes.
I even made a laminated tag featuring the cover art from the Trick 'r Treat DVD so that people would realize who he was. I was hoping that, in addition to looking completely awesome, it might raise awareness and spread the word about a great and underrated film.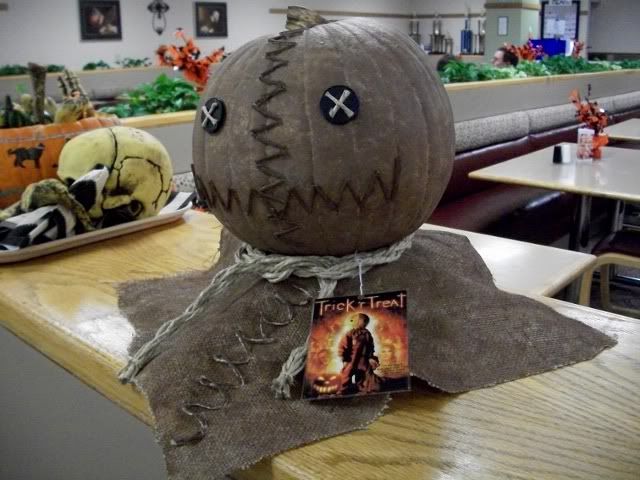 Originally I was actually going to cover it with burlap, but I thought that would disguise the fact that it was a real pumpkin. I wanted that to be obvious when you looked at it, so I opted for paint instead.
He placed third.