Discussion Starter
·
#1
·
This is a really fun and easy way to add some "smell" factor to your haunt - by changing the smell of your fog.
There are some additives being sold online which you can add to the fog juice - but many are quite pricey. I've been experimenting using over-the-counter plug-in freshner scents as an addititve to your liquid fog juice.
Now you won't find "dead body" or "gunpowder" scents in the cleaner aisle at your grocery store, but you can use apple/cinnamon, pumpkin pie, and other holiday scents to create a very pleasing and unique atmosphere.
It's super easy and makes for a pleasant effect during the big night.
I'm using a 1000 Watt fog machine in my Pirate Cannon this year and with the reservoir half full of fog juice, I use a half-bottle of the Glade "Pumpkin Pit Stop" refill. I have not discovered any ill effects to the fog machine using this concoction thus far. I simply took a pair of pliers and popped the top off and poured the liquid directly into the reservoir in the fogger.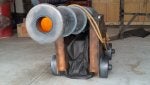 The neighbor kids came running over to see where the cinnamon/pumpkin pie smell was coming from and were quite shocked to see me testing the new cannon out. Looks like the cat is now out of the bag on the "big gun" because of the huge aroma it now puts out.
Try it out - it makes for a fun alternative to that sickly sweet, fog smell!