Discussion Starter
·
#1
·
After finding a coupon, I ordered the Grandin Road Beloved Tombstone on 9/4. It arrived on 9/11.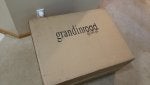 After opening the large box, I immediately noticed a vacuum will be needed with that white messy hard foam that beads off, but packaging was good.
Opening up the foam casing with a knife to break the tape I found the tombstone well protected.
It was nice to see they take tombstone security seriously. I get tired of fighting wind all the time. The bracket for this tombstone will ensure it doesn't go anywhere. The literature says to step on the stand to get it in the ground then attach the tombstone, they caution against using a hammer and suggest water to soften up hard ground.
I liked the moss touches around the tombstone.
I also liked the detail on the resting lady.
They did a pretty good job with the other tombstone details on the front and back as well.
Overall for a price of $134.25 shipped with my coupon at the time, dimensions and weight (confirmed) of 28"W x 11-1/2"D x 20-1/2"H, 12 lbs.
I am pretty happy. I'll proably ditch the foam and keep the box to store it amongst the other 30+ resin tombstones. Overall, it is currently in my top 3 favorites of those 30 ish others.
If you want to buy it, it's here:
http://www.grandinroad.com/my-beloved-tombstone/808309
Or don't, I don't care. I get no perks out of this, other than helping you guys answer the questions I had regarding this product.
Take care,
James Wright
Omaha, NE