Discussion Starter
·
#1
·
Seeing some examples of statues we have done in the past, the wife and I decided to try and make a reaper statue for our yard this year using PVC, chicken wire, sheets, monster mud and a few accessory items.
I started out making a base out of some extra mortar I had laying around from doing some tile work. (Works great and mortar is really cheap)
Then made a basic skeletal frame using PVC and chicken wire. We decided to add a piece of wood to help support one arm that will be holding a lantern.
After that, we made a big batch of monster mud and soaked a sheet in it and then draped it around the chicken wire and let it sit for a few days to cure. Did you know a queen size sheet soaked in monster mud is heavy? (insert The More You Know NBC commercial here)
Next, gave it a good coat of black paint, followed by several coats of dry brushing grey on there to give it that old statue look.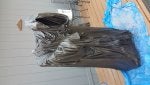 Next we wrapped a strand of red lights we picked up in after Christmas sales and weaved them through the chicken wire inside so he would glow out the bottom. Set in a lantern to test the look.
We took a skull and drilled a hole in each eye socket, then ran a few of the red lights up into his head and poking out the holes. Applied a lot of hot glue to keep it in place and give it a better effect.
I didn't want to put a band spanking new lantern on him (thought that would look bad), so I took one of the new lanterns we bought and aged it up with a few different types of spray paint. Took out the LED Bulbs and put in a Dollar Store Flicker light to give it an older look.
This time after attaching the head, instead of soaking the sheet in Monster Mud, we placed the sheet on his head and used our hands to just spread the MM all over his "hood". I found this to be a much easier way to apply it. Let it cure, and did the same painting technique as before.
Here is the final results. Took a picture in dark and in light to show the detail and look.