Discussion Starter
·
#1
·
Heres my latest project. Built from PVC frame then Spray foam (no chicken wire) paper mache then paint to match the mask and have green LED eyes. Should go good to match my sewer monster.
Does anyone know of a good way to protect your paper mache from rain? On some of my stuff I have used Tompsons water seal but it never "dries" it protects it from the rain becuse it bubbles the rain but whenever I move it, its sticky.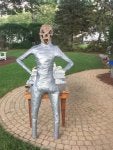 Its starting to come together, needs more paper mache layers then paint.
Heres where he he will be in my display