Discussion Starter
·
#1
·
Ok, this project yields some high quality horror candles, but it is not really cheap to make. This is time consuming, and a bit of creative process is involved.

Material List
1. PVC PIPE
2. Bungee cord
3. Acetone/pain thinner.
4. Saw
5. PVC Cement
6. Primer white/ivory/cream
7. Hot glue gun/MANY glue sticks!.
8 Burnt Umber acrylic paint, brushes/sponges/tissue
9. tea lights
10. PATIENCE!

1. Cut the PVC into lengths, Bunch the PVC pipe together at various lengths for a cluster of candles. I suggest doing this part early so you can see the design and layout you want.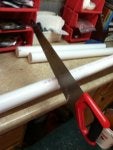 2. Use Paint thinner, brush cleaner , acetone or some kind of solvent to remove the ink printed on the PVC. this ink can show through and it may save headaches later. (acetone worked best for me)














3. Create you pattern and use bungee cords to secure them together. You can also use rope or rubber bands...(velcro etc etc).


4. Use PVC cement (it stinks and is super toxic so outside!) and coat the areas the PVC touches each other. This stuff is deceptive and it dries quickly. Wait for a full 2 hours to cure.

5. Next I used pipe insulation (found at any hardware big box store.) and cut small lengths to fit inside the PVC pipe to make a ledge for the lighting to sit on.

6. Now the fun part! get you hot glue gun ready. Set it to high heat! Begin by securing the insulation to the PVC. This will hold the ledge in place. Next coat the top of the cut PVC in wax building layers on the top. You can make extra large globs of wax and let the drip naturally or create your drips. I did both methods> I found the natural drips combined with created ones gave a great effect. After you first layer is done, make a second and third or more. The more layer the better the candle will appear. I used about 25 sticks for one bunch of candles. Careful of spider thread from the glue gun, they will show up alot after the next phase. A few look cool , alot will ruin the effect of the wax...

7. Now it time to prime. I used white as a base, then cream or ivory as a top coat. Its important to let some white show though. when doing any painting a totally flat look is unnatural. Let the paints blend a bit. Mostly the color will be ivory, but by letting some white show, it looks more interesting.















8. Its time to let your natural artist out! I used Burnt Umber acrylics to do a wash technique. Basically you thin the paint a bit and coat the entire candle , in small sections, with the paint. Let it dry for a minute or so, them WIPE OFF the paint in the raised areas. You can use tissue or a sponge or just paper towels. Keep doing this and eventually you will get a nice aged look. I also intentionally painted in around the drips to give a nice dark shadow beneath them.
















Your final effect should look something like this. Water acrylics are very forgiving so you can always spray them down with water and start over if you need to. You should seal these with a FLAT sealer if he will be outside. I used tea lights for the candle flame, but you can actually add electric flick lights through the bottom if you choose to. the nice thing about the insulation is you can change them if you desire.

Best of luck !
Xipo