Been getting some good results making elongated stems for my corpsed pumpkins. Started out making stems by just rolling shop towel coated in latex around a wire for the first few I did, but after making a quite a few now and experimenting as I went along I think I've got it down now to a pretty easy technique that looks really realistic and is also flexible and poseable.
First stem method...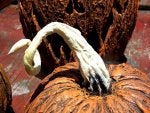 These were pretty good, but the new ones look 10x better. Here is how I do them.
I start out with some fairly stiff wire. I use baling wire because I can get a lot of it for free lying around at work, but coathanger wire works ok too. Determine how long you want your stem and cut the wire about 4 inches longer. (to account for a bend and the depth of your funkin stem.) I cut an opening large enough for my hand in the bottom of my funkins so the next step is easy for me. If you don't want a large hole in the bottom of yours you can get the wire in through an eyehole, but it may take some finagling. drill a small hole (smaller than your wire) straight down through the stem. Make a 90 degree bend in the wire about 2 inches from one end, or if you are using softer coat hanger wire, double it over about 2 inches from the end and twist it together, then bend it at 90 degrees. slip the unbent end up through the hole in the stem from inside your funkin and pullit up till the bend hits the top to secure it from pulling out from the top. Slip a piece of foam backer rod over the wire. Angle the foam covered wire slightly in whatever way the original funkin stem leans. You can bend it around some to decide about what shape you want, but don't get too crazy because a lot of bends and curls will be hard to work around and you can always adjust it more once finished.
Photo of backer foam covered wires and a pumpkin ready to start sculpting of the stem. The really long one was made into a vine with two tiny pumpkins sprouting off of it.
Now I start twisting strips of shop towel saturated with latex into pieces about 2-6 inches long and placing them around the base of the stem. I do 5 or 6 of them in random lengths. Coat the funkins stem and the backer rod foam well with latex before applying the rolled towel. These will blend the new stem into the old and create starting points for the ribs running along the stem.
Next I coat the entire length of backer foam with latex and lay latex coated yarn or twine along it's length starting at one of the rolled towel pieces and slowly spiraling around the stem as it goes up it. Space each piece out somewhat evenly, but not perfectly. Keep it natural looking. Let everything dry for a while, then coat it all with latex again to make sure it's stuck pretty good.
Twine and yarn along stem...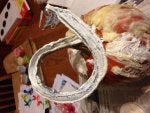 Next step is to skin the entire stem with latex saturated scraps of shop towel and paper towel. Shop towel is strong and good for the area around the base of the stem to make it sturdy, but it is harder to get fine detail with. Paper towel (with no embossing) works good for the upper parts of the stem where it needs to conform to the space between the ribs and get around the contours of the stem. I tear oval shaped pieces about an inch wide and two inches long. Tear all the edges and don't leave any of the original straight sides of the towels or it will show later. Brush latex onto the stem, coat both sides of the scrap of towel, then lay it over an area and smooth it down with a brush dipped in latex again. Work it around all the ribs of the stem and make sure it's stuck down good. It will take a while to do the entire stem this way, but take your time and be careful not to miss any spots. You want it to be completely covered.
Let it all dry for a couple of days before painting. Use colors lighter than you want your end colors to be because the stain used to bring out the detail will darken the finished paint significantly. I used a dark brown base coat followed by khaki for the ribs and dry brushing. Added a hint of light green here and there too.
This is the vine I made with a long piece of wire and backer foam. It had not been stained yet in this photo...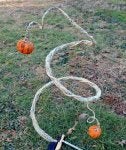 This is a close up pic of the finished paint (pre stain) on a section of vine I made using the same technique that was used to make the stems.
After painting, I coat each stem (and the entire corpsed pumpkin) with a layer of American Oak Minwax wood stain. The stain settles into all the wrinkles, creases, and imperfections, darkens the overall paint tones and REALLY brings out the details.
FInished stem freshly stained and waiting to dry...
Some of my latest finished pumpkins and the section of vine drying. These are going into the base for my pumpkin king...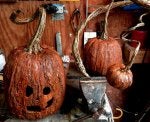 After a couple days of drying I seal them with a spray of plastidip clear coat. The plastidip dries flexible, which is what allows the stems to still be flexible. A regular clear coat will crack if you bend it a lot. Once dry and as long as your latex and clear coat are 100% coverage, they should be water resistant and able to be out in the rain, but I would not advise leaving them in standing water. If you have gaps in the plastidip you will notice that areas will start to turn white when they get wet. To fix it, just bring it inside and let it dry for several days, then re coat the spots where you saw white. Keep in mind I use foam pumpkins. If yours are mache they will probably not be was water resistant.