Discussion Starter
•
#1
•
Hello all!
I've never been able to decorate outside before due to HOA regulations that no longer exist. I just found this out two weeks ago, so I've been busy cranking out 32 mausoleum stones for my garage door. I figured I could get that done quicker that regular tombstones, but this took quite a while too...I am one pooped chick!
Anyway, I just finished my last one, and am ready to put them up, I'm not sure how to though. The are not super heavy, made our of pink foam and covered with Drylock. I initially thought about heavy duty velcro, but my hubby is concerned it will tear the paint off the door when we peel the velcro off. Anybody have any ideas about how to go about this?
Here's a couple of pics of a few of the stones and my garage door if it helps...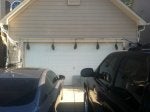 After all that work I'm eager to put them out, with only a week to spare at that!
Any and all help is greatly appreciated.