Discussion Starter
•
#1
•
This is my first post here and I really wanted to "give back" after using a lot of the tutorials and general ideas from this site. This year I plan to have a pirate themed Halloween complete with a tavern façade. So I needed an old rustic sign to lure in all those rum guzzling bilge rats. After some time searching the net I was able to find a few tips here and there. Well I put them together and made my attempt. Here is my tutorial for an old tavern sign. Hope it helps ya land lubbers!!!
First I got myself a 2 inch piece of pink insulation foam from Home Depot. I traced out my measurements and cut the general shape out with a hot knife. I then grained the foam with a soldering iron to resemble wood. There are plenty of tutorials on the net for this so I won't go into all that. I also painted the sign using the standard method. I fully painted the sign black followed by dry brushing numerous wood type colors
This was my end result.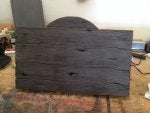 I then wanted to put some "iron" bands around the planks to simulate holding them together. I got some thin craft foam and spray painted them with Rustoleum's Hammered Iron.
They turned out great and I hot glued them to the sign.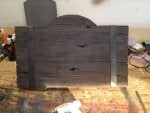 I then needed some type of nails hammered through the bands. I picked a brass tack to create this look. It was easy to do and I liked the look of the brass.
OK so I needed a name for the tavern. Being a dog lover I went with the name "Sea Dog Tavern". I was able to download the font "Pieces of Eight" from a free font site that seemed to be perfect. I wasted some printer paper trying to get the right size but it worked out and I test fit the lettering before the next step.
Now the fun part
rolleyes: sarcasm), cutting out these letters. It was challenging but with the help of a hot knife it moved right along. Not sure if there is a better way to do this but it was all I could think of.
After cutting I laid out the letters once again to get a sense of spacing
I then spray painted the letters with a chrome paint and aged them with a black acrylic, cherry wood stain, and a green acrylic. I used a fairly wet brush and "jabbed" at the letters to create a pitted type of look. Then secured them onto the sign with hot glue.
Next was the symbol for the Sea Dog Tavern. What else but a dog! I figured I'd stay with the metal look and found a great logo that fit . Again printing it out to judge size.
I cut it out the same way as the letters and it was given the same ageing technique. Again secured with hot glue and it was finished. I was really pleased with the outcome. Id love to hear some opinions or maybe some short cuts to doing this easier. Thanks everyone and Happy Haunting