Discussion Starter
·
#1
·
materials needed
______________
full sheet of plywood
lg pc of pvc pipe(for barrel)
blk paint
foam wrap insulation
fake chain
studs-2
i searched the net for pics of pirate canoons,found what i was looking for and started drawing out what i wanted to build.i figured out some measurements and went from there.this project will need the use of power tools so be carefull! i got a lg pc of pvc pipe (free!)and cut it to the lenth i wanted ,4'. i used a skill saw and had a helper hold the pvc.i didn't want to lose any fingers!
[
i cut out the sides,front and bottom pieces. i cut pcs of a stud to frame the inside and top of the carraige. heres a pic of the pvc pipe and the roll of foam insulation.
i had to use a jig saw and a skill saw for the cutting out of the plywood for the frame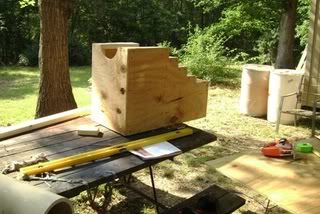 i took my time and nailed it together,also used screws for strenthing the frame. the front panel i cut out a half circle at the top so the pvc barrel would lay into the frame.
after i assembeld the cannon,i cut out some circles and nailed them to the sides.these were the wheels. for the barrel i wrapped the foam around it at a couple of spots to give the barrel some definition.i then spray painted the entire barrel flat black.i also wrapped some rope twine around the barrel for looks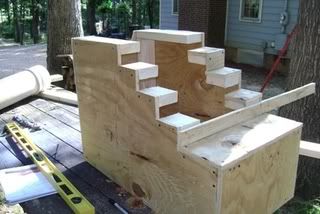 i painted the carraige a brown color,added fake chain to the sides,and added some rope to it as well.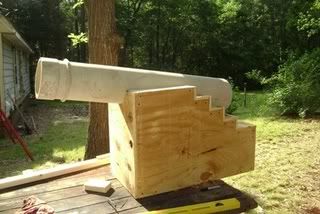 i hope you like the final result.i basically just guessed at my measurements.you could make it whatever size you wanted. theres night time pics of the cannon in the group gallery.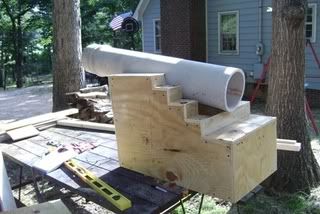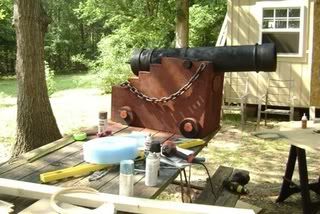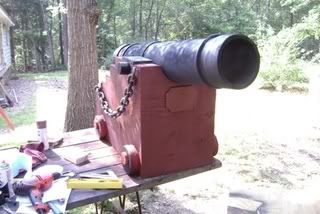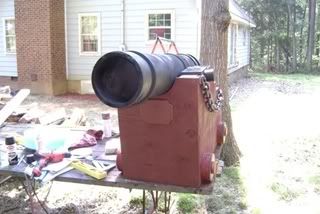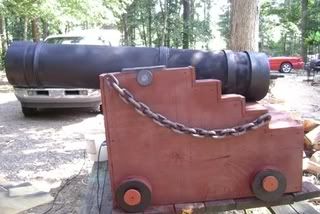 this cannon took me one day to finish.and that was just messing around!
it looks great at night with a green floodlight(or blue) add a pirate and some cannon balls( how to in the group forum) and your all set.