Discussion Starter
•
#1
•
Okay, so my Halloween 3 Season of the Witch, witch mask finally got here. It's from Paper Magic.
Picked it up from Amazon and I'm kinda disappointed with this purchase. You all know the feeling, when you order something and it looks nothing like the picture? The picture is much different... The hood is just...I don't even... Here are the pro's and con's
Pro's: Licensed, accurate face, Silver Shamrock tag, fits nice, perfect vision through eye holes, very warm.
Con's: Hood is simple, not pointed, very small, unlike picture. The hood is BLUE, not black, the seller literally shoved it into a small envelope package, smashing the face, which took almost 20 minutes to try and fix, and its still not keeping shape, stuffing it with plastic and paper and putting it away.
The only reason I'm keeping it is because of the face, and because its licensed, but its not that great compared to the 200-300 dollar versions.
Picture on Amazon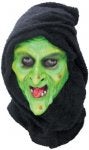 What I got...
Adding my own hood.