Discussion Starter
•
#1
•
The last time I made something out of paper mache was in the fourth grade, so I am beyond rusty. However, we love the look of props created with paper mache and we're going to increase the number of projects that use it going forward. But there in lies the tale. I'm the one who's going to be messing around with all that glue and paper, and I need the help of those more versed in the methods than I am. Especially concerning a newly acquired prop. Here he is...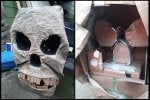 He is supposed to be a reproduction of the skull statue in
Indiana Jones and the Temple of Doom
. We picked him up from a couple who were getting rid of it after they had an Indiana Jones themed party. He's just cobbled together with cardboard and craft paper, but we think they did a pretty good job. He stands about four feet tall.
He has three salt crystal lights for his eyes and nose, and the cardboard supports seem to hold them just fine. But what I really want to do is transform him from a flimsy party decoration to a sturdy Halloween prop. He will live in our pirate's mausoleum which is outdoors, but under cover. Which means he should be waterproof because Oregon really doesn't understand that a roof means water isn't supposed to fall under it, only on top of it.
He will also have to live with two very klutzy people putting him out and putting him away every year, so he should be sturdy. And lastly, because I really try my best to make things look as authentic as I can, given my resources, he should look like weathered, stained, rock when all the paper clay and paint is dry.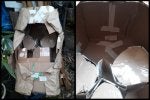 So, to accomplish all that, I am asking for your advice. Do I go in and reinforce all the cardboard with another layer? Do I just cover everything with additional layers of tape to hold it all together? I have tons of Styrofoam. Would it be a good idea to fill in all the gaps with that Styrofoam to create a more stable prop? What's the best way to create a lid or something to cover up the back so that wayward rain doesn't mess up the insides? What is your favorite homemade paste for covering your projects? If I'm going to make this critter truly sturdy, will I be covering him both on the outside and the inside? What is your favorite way of making paper clay? What do you paint your props with to keep them water tight?
What I'm asking all of you paper mache artists out there is take a look at these pictures of our cardboard skull and the picture from the movie and ask yourself, "how do I get that cardboard skull from where he is now to what he should look like when I'm done?" Any advice you give will be greatly appreciated. And I promise when he's all done, we'll have a coming out party in celebration with lots of pictures.
Thanks bunches.