Discussion Starter
•
#1
•
We started collecting these things (obsession now) last year... And the WTB list is looong. Last year we just kinda setup a fw levels using some basic green foam with the idea of really getting into it and develping the "Town".
Well...being in the Architecture biz sure doesnt help any! we became SO obsessed trying to figure out all the little details, and pathways, and lighting, and ALL the various viewing angles - it overwhelmed us. Thus, the project remained unfinished. We vowed "Next year, we are going to finish this, and will start early!"
So.....we cleared the weekend schedule, and got 'er done!! (mostly
)
Here's the very simpe base... Typical stacking of foam...cut.... REcut...rough up the edges, repeat.....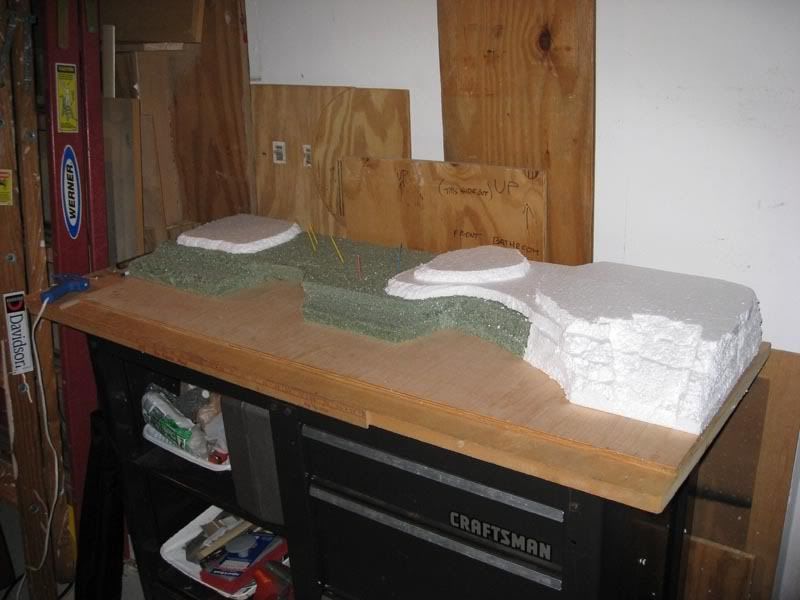 Next we decided..heck with the "paper machet" stuff... SO, we had some tissue-craft-paper stuff around the house....crepe paper I think is what is had on the packaging..... It had a slight texture to it, but I waded it up to give it a little more!! Then we just drizzled tacky-glue all over the place, smeared it around with a disposable foam brush and draped the paper over the top... DONE. On the left side (see pic below) we went with a grassy-fabric- craft stuff that we picked up at Jo-anne's fabrics. ... Quickly realized that we needed more than one 'sheet' of this stuff!!! DOH!...off to the store the next morning!
While we were out, we went to HD to grab some spray paint (black, gray, fake granite stuff)... We blasted it with a few VERY light coats at first - I REALLY hoped the paint (non-water based) wouldnt eat away at the minimal exposed foam areas... Light coats seemed to work best - duh! Then...blasted away at it!! Finished with some of that granite-in-a-can stuff...and lightly dusted areas that I felt were gonna need a little extra shadowing.......In the pic(s) below, we verified the location of pieces and started to figure out where lights were gonna go, so we could hide the wires.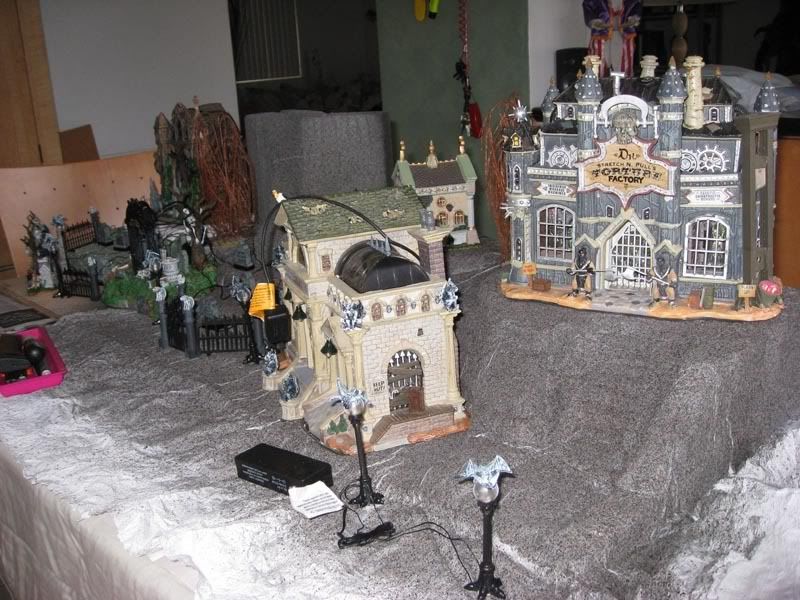 Here's a shot working out lighting runs (like an electrical engineer or something! LOL!)
TIP:..... Just start slappin the stuff down!! The ground cover will <eventually> hide everything!
The tombstones are all finished at the oposite end. and we're starting to fill in the rocky/cliff areas with vegetation (Landscape Architecture! :roll: )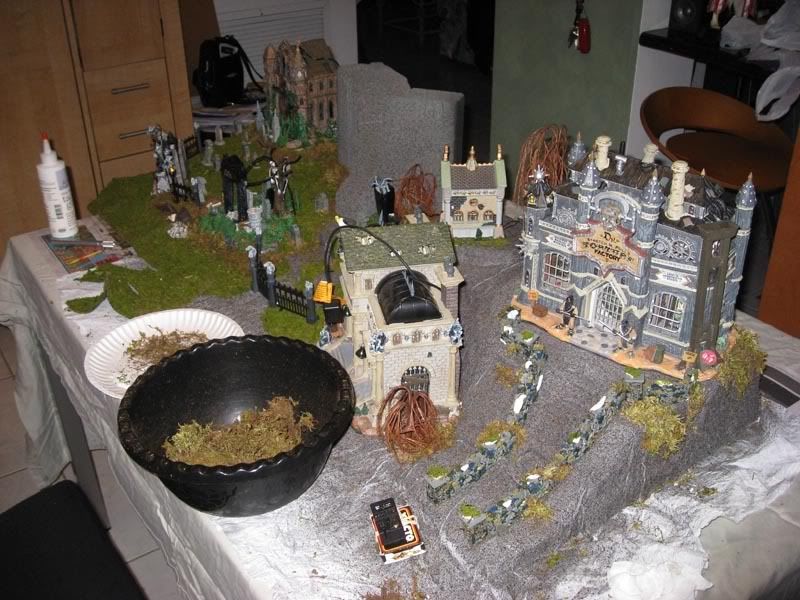 Well...it started getting late..the beer was running out... the football games were almost over...and we still hadn't eaten dinner yet. so we jumped the gun a bit and put the Town in it's place. - There are a few wires still shown in this pic, but they are all cleaned up now! (after dinner)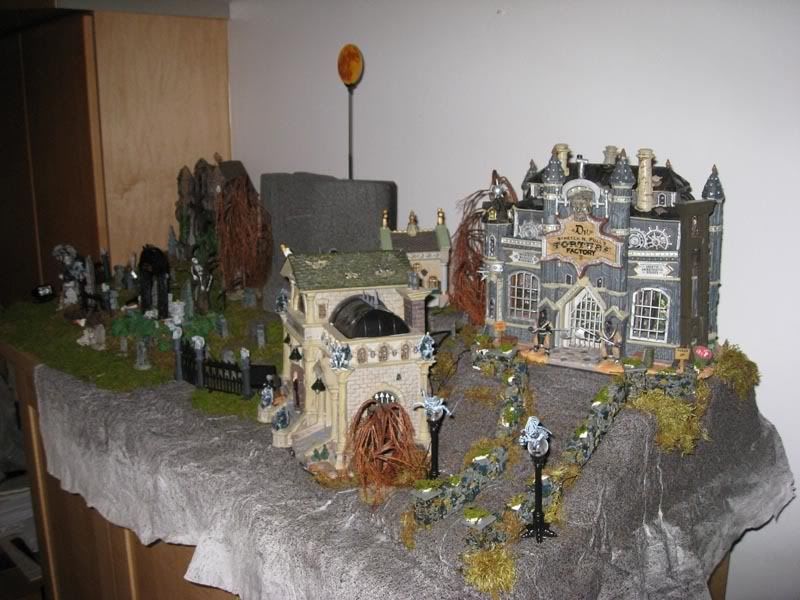 I've got a shot at the back somewhere here....showing all the wiring at the back.........
<insert wiring image here> :roll:
And here it is....all lit up. Kinda dark, but hopefully you will get the idea....