Discussion Starter
•
#1
•
[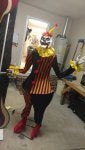 We are pretty stocked for this years Halloween. Only been living in this new neighborhood a couple of years and we get a fair amount of Halloween traffic. (Just don't sow up with no costume and a Food Lion bag or be prepared to DANCE lol).
With all the crazy clown stuff going on, we decided to do a Circus Fright night theme. Wife still wanted to do her cemetery so I decided to make a couple inexpensive grave yard fences for her. PVC and wooden dowls from Michaels. I saw a video on youtube and decided to try it out. But instead of just glueing dowls to each other, I got some PVC and drilled holes then placed the dowls through the holes and E6000 glued them. Pretty basic prop but it came out great. Just need to add some Spanish moss and these should last a few years if put away correctly.
- Wooden Dowels from Michaels: .69 per dowel, two fences = (10) ten dowels. $6.90
- 1" PVC poles from Lowes: $1.97 per pole. Two fences = (8) eight poles. $15.76
- E6000 glue from Michaels: One tube $5.00
- Cheap black spray paint. $1.00 per can. Needed two cans. = $2.00
TOTAL = $26.66 for (2) two fences.
Picked up a cool Clown card board cut out but hated the cheap cardboard stands it came with so we made some steel bases with plumbing poles. Super easy, strong and wont tip over. Then attached top of cutout. Picked up some black cloth you use in gardens to enclose the archway. I will be standing behind it with a large strobe light behind me so the trick or treaters can see my sillohette. Then I will walk through the archway with the old chain saw (no blade of course)!
Got a killer ani-motion clown mask at Party City. These are pretty great quality and when the user opens their mouth the mask mouth opens, lips curl up and expose teeth and gums. I wanted more of a clown look so we painted the black nose red with some enamel paint. Also touched up the teeth with some red bloody highlights too!
https://www.youtube.com/watch?v=_YF4z_j34Ho
Picked up a "Honkey the Clown" animated clown from ebay. Pretty cool for $125.00. Easy install and its about 6'5" tall. Pretty creepy prop that will work great.
https://www.youtube.com/watch?v=of1gKZl62hk
We have a ton of different spooky lighting options, fog machine etc.... Plus we got some great creepy carnival music from another board member here at Halloweenforum! (Thanks Dark Lord)
Next year we will get started earlier but we are pretty happy with what we have right now!