Discussion Starter
·
#1
·
Hi! This is an older thread that goes into basic details concerning my wife and I's build of the Pumpkinrot inspired sentinels seen below. This was not meant to be a tutorial but rather a documented thread on how we fumbled through it. If you have any questions feel free to message me.I hope you enjoy it.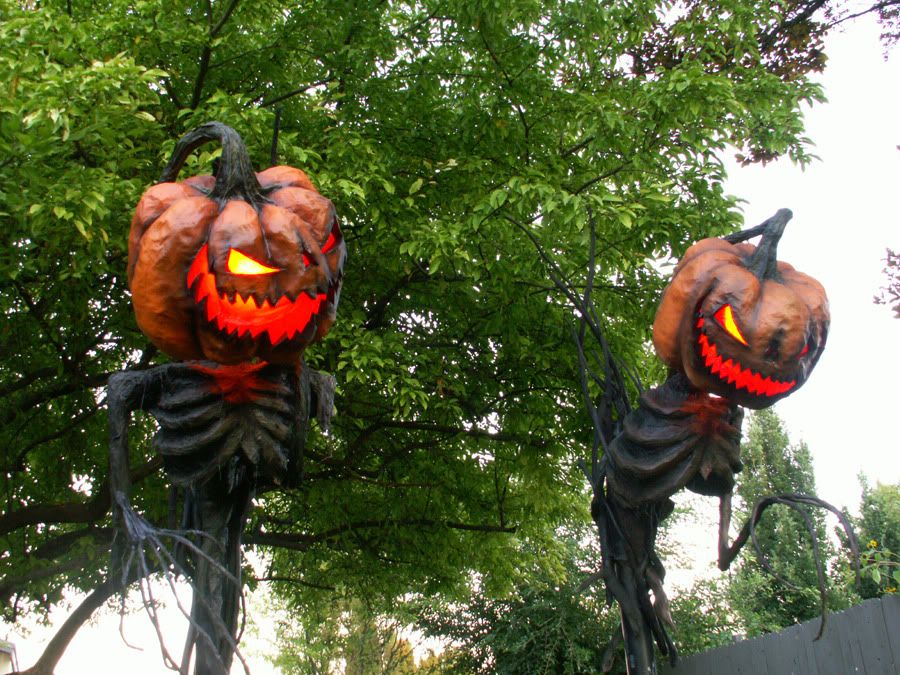 The original thread starts here.

_____________________________________________________________________________________________________________
Good day!
So the wife and I have been wanting to build a scarecrow for sometime now. We've never really done much other than piles of pumpkins on straw bales coupled with a few strings of orange and purple lighting for Halloween. This year we decided to bite the bullet and try our shot at something more extravagant.
Whilst searching the world wide interwebs for scarecrow ideas, I came across this freak show:
LINK1
..... and thought "Holy Shizzo!!!
I WANT THAT!!"
Those images lead me to these:
LINK2
Before continuing, the Missus and I need to elaborate on what a genius this Pumpkinrot fellow is. Good grief! His work is absolutely incredible! His attention to detail is off the charts, and his photography makes us melt. He's an inspiration, and in fact, inspired us to try and at least get close to something found in those scenes. We are attempting to create sentinels like the ones seen in LINK1, and put them on either side of our drive way. We'll add A LOT of corn through out the entire front yard and front of our house as seen in LINK2, along with a multitude of Orange lights to illuminate everything.
Anyhoo......... We did some research through the early weeks of July and then got started. We gathered knowledge from all of the staples around the Web, including Stalloween, Twisted Visions, these very forums, etc. and then got started.
We began with paper mache pumpkin after pumpkin. And failed. More than once.
We couldn't find a way to make a convincing pumpkin shape in the beginning, but finally started getting close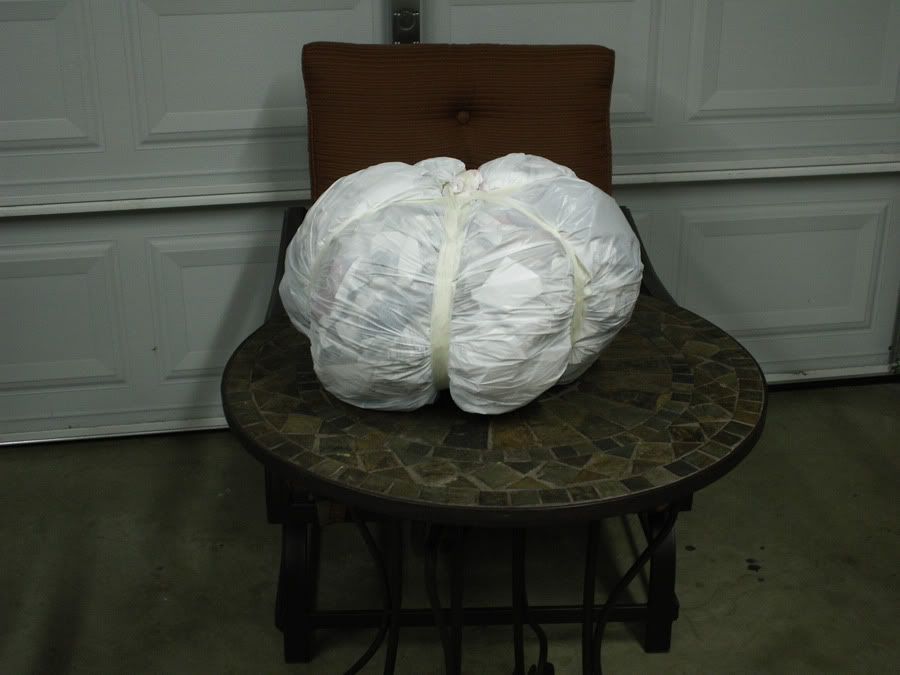 The wife figured out that using string works really well. Cinch it down on a trash bag (stalloween style) that is
stuffed tight
with paper and I mean
cinch that damn thing down good
!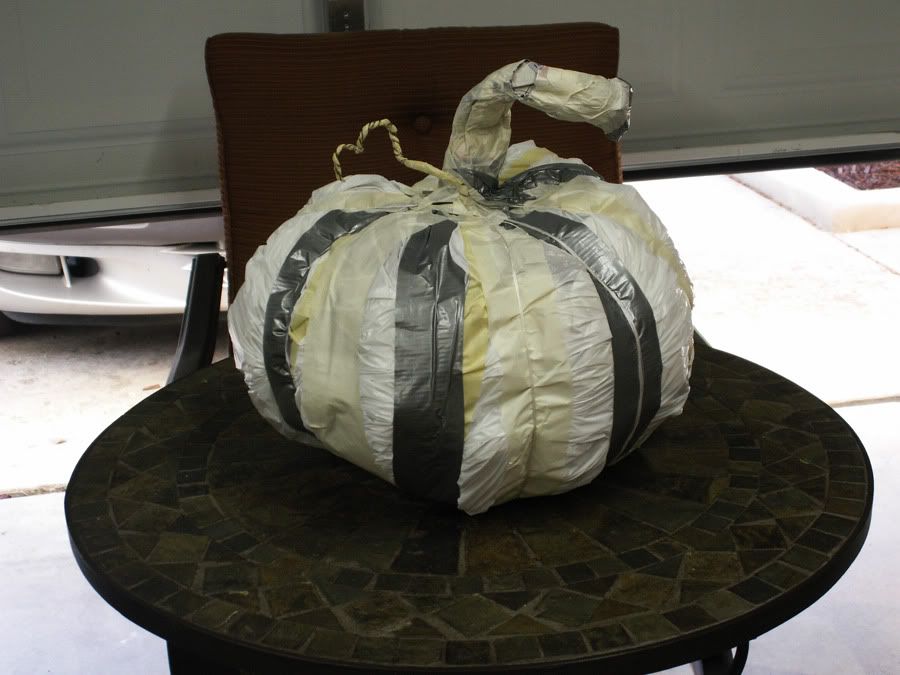 Finally after a lot of trial and error, we came up with this shape, which we went with.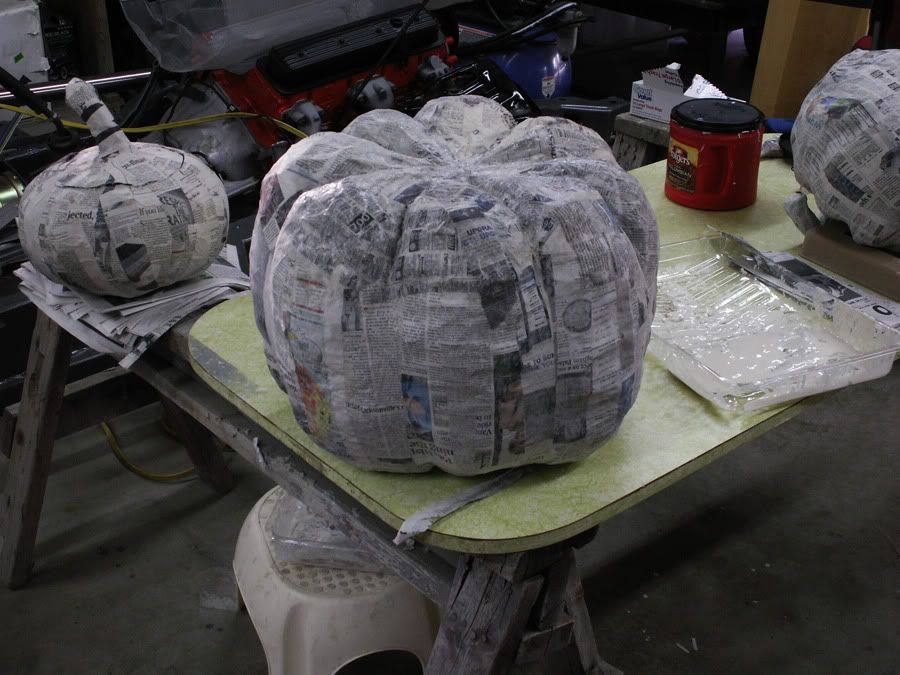 Now, Pumpkinrot doesn't exactly give you a detailed layout of how to create his wonderful works of art (nor should he!) so I've had to do some guessing along the way. For the structure of the bodies, I decided to use four inch and three inch black ABS piping. It seemed like the lightest and strongest way to go about getting these things up in the air, plus it's easy to work with. But, how in the hell do you securely attach the heads without screwing up somewhat thin paper mache? Well, I went with that GREAT STUFF expanding foam. I found the position I wanted the head to be in, temporarily duct taped it in, and then filled in the gap. It's very lightweight (I have a hell of a lot of structure suspended out over the base so I've been watching my material weights closely) and strong as can be. I was rather shocked by how well that worked.
That lead us to the image below. Pay no mind to the wire ribs taped to the pipe. That was my first "brilliant idea" for a torso, and the first of many FAILS.