Discussion Starter
·
#2
·
Next came the faces, which really made me nervous. The face makes or breaks the whole thing IMO. Screwing this up is not an option. I dig that giant cheshire cat grin seen on 'Rots pumpkins, so I used those as a kind of template. Then came the dastardly task of cardboarding in all of those friggin' teeth, the eyes, and the nose. That took a while.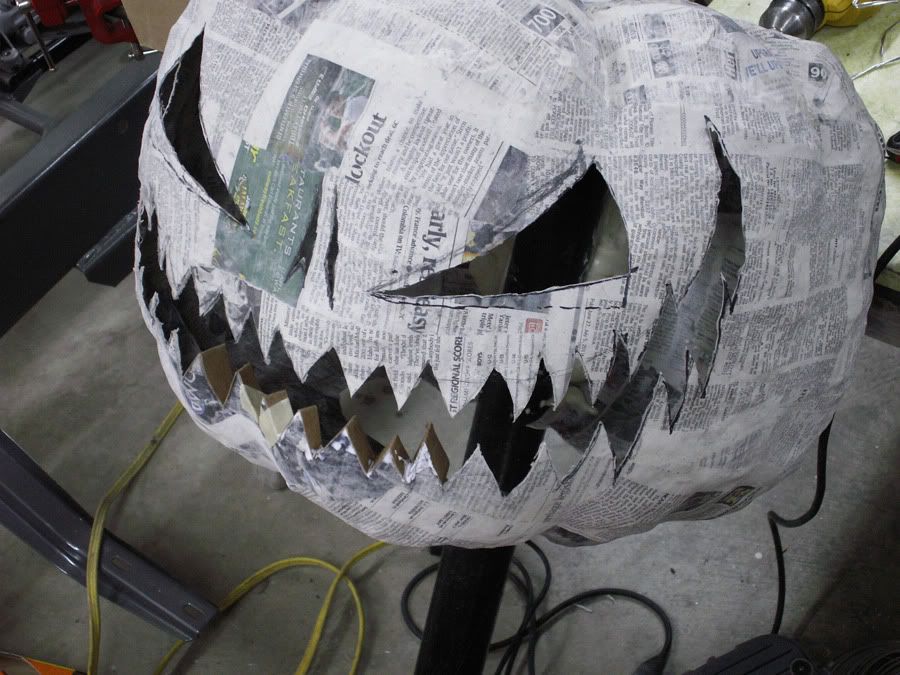 Card board is finished here:
All while the first one was being built, the second one (affectionately called "Number Two" for the time being) was taking shape just behind.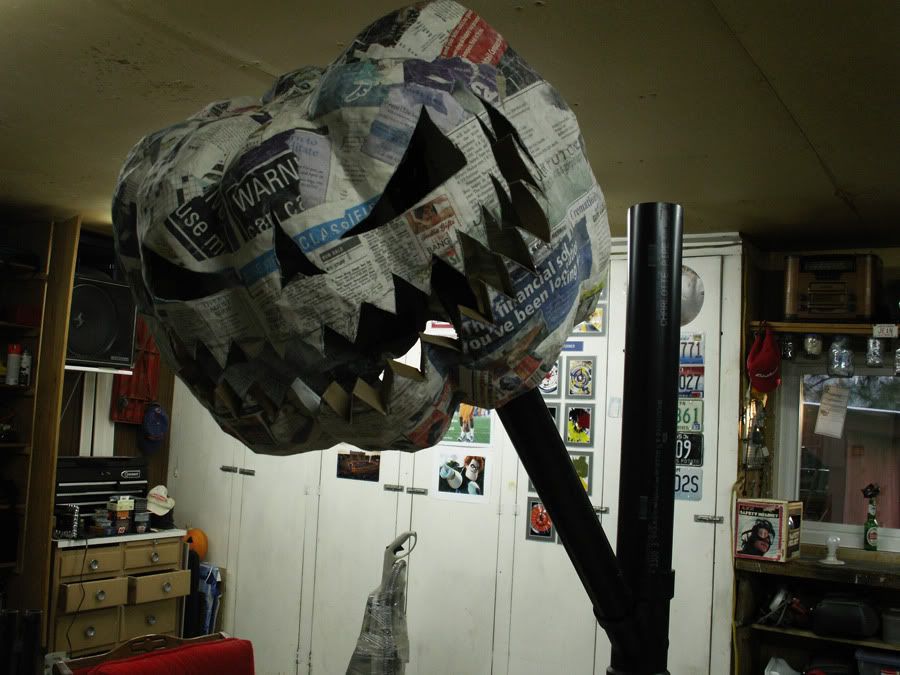 It wasn't long until we could hear the two brothers quietly whispering evil secrets back and forth to one another.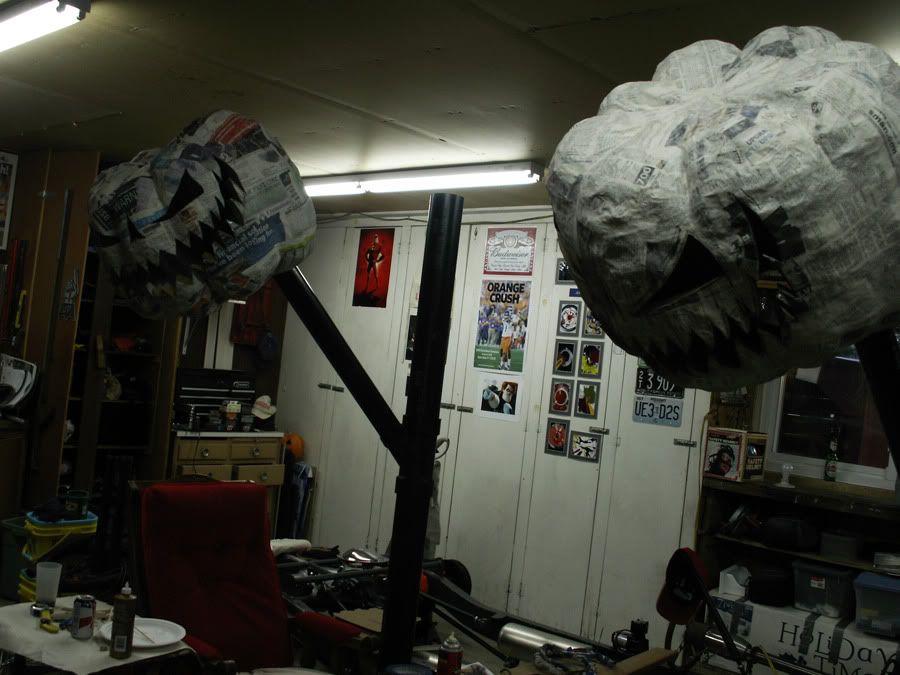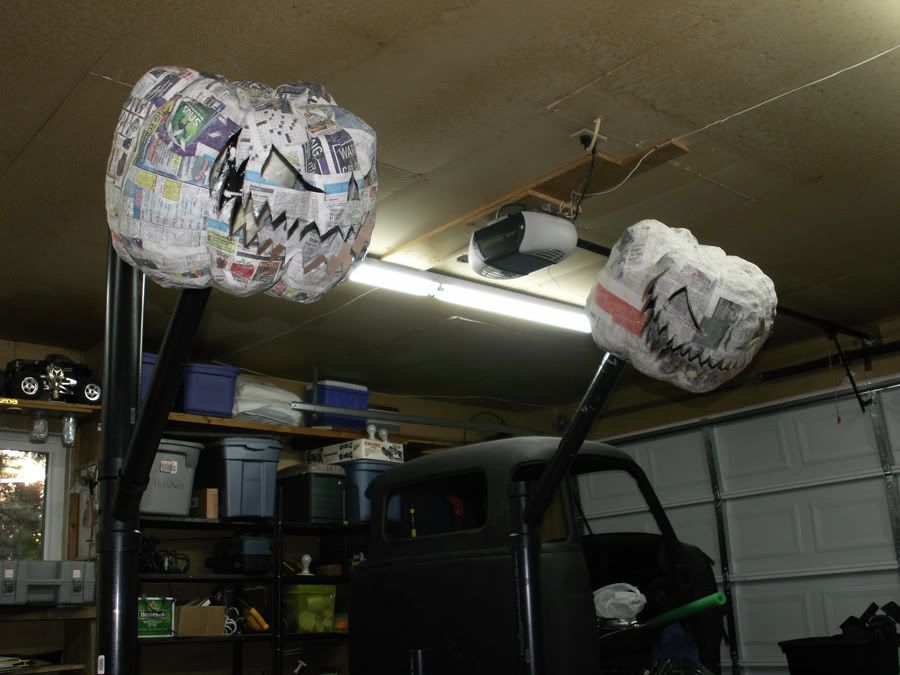 Now, these pumpkin heads don't look like Pumpkinrot's Sentinels heads. Why? Well, because we're not freakin' artistic geniuses like he is, of course! We tried and tried to figure out how he was getting that perfect pumpkin shape, and perfect pumpkin skin, but I couldn't achieve it. So we tossed out a "what the hell", shrugged our shoulders and moved on. I suggested the idea of trying out that monster mud stuff, so we applied several coats of that. We painted our laundry room and pantry orange this last spring and happened to have a gallon left over so we used that for the mixture. It turned out ok. I tried to sand it smooth, but that was just a mess and a pain in the neck so we're simply going with this. After final paint and ample charring effects, I think it'll look fine. They'll be about eight feet in the air after all.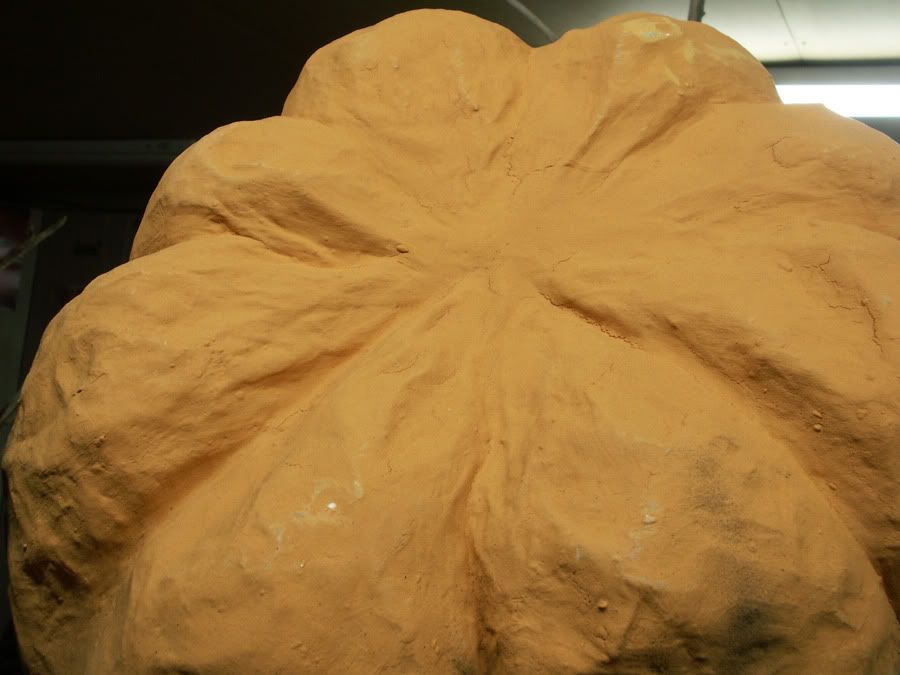 This brings us to the @#$%*&! TORSOS. We almost had to call divorce lawyers during this process. Good grief! It was quite the hang up. We even procrastinated about two weeks because we couldn't figure out the best way to do it. Getting the overall pose correct, along with making sure that the proportions made sense was driving me batshet crazy. Couple that with the wife (being a long time study in the medical field) wanting the bone structure to at least make some sort of sense....... Man. We battled. We drank a lot, too. Which is great. But battling sucks.
Finally we decided to force ourselves back to the garage and get something done. We made a couple more temporary (removable) attempts each, and then went with what you'll see below.
I wanted the bodies to have a look of being impaled on an old bunch of sticks or tree trunk, so we had to have the back bone arched which helped give reason to his hanging out so far from the base. To satisfy that need, the wife grabbed a pool noodle and we shaped it like so: