Discussion Starter
·
#1
·
It's been awhile since I've posted,but here's our camping trip and our small display at the house from last year. We were roughing it in a tent this year so we didn't have much room for a display.
My son decided he'd rather give out candy and little trinkets instead of trick or treating more then 5mins...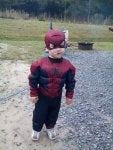 And last is our house, (take notice to my son, 2 1/2 years old) in the doorway waiting for his 12 year old sister to scare her)
Still all in all the camping trip was the best, we get a lot of trick or treaters and comments through the time we are there. He best is when camp management drove by in a golf cart, slammed on the brakes to back up and ask if we had a fire in the truck... Then came back 10 minutes later still laughing that he should've thought about it as we were so calm.
At the house we had approximately 20 TOTs this year, much better then previous... And Gage hung out with us to give out candy instead of wanting to go out. I think I have a monster on my hands...
Thanks again jdubbya for the clown stuff.