Discussion Starter
·
#1
·
Okay, this year, we cut 75% of the haunt we ususally do
it was too much work and Mother Nature was always destroying it on Halloween Day. No Tunnels, no more mazes, even no cemetary this year.
Just a huge Pumkin patch, with tons of related props. We realise it's way too much work, and Mother Nature is always destroying it on Halloween day.
It does feels good, actually, able to focus on one Theme.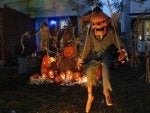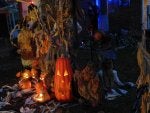 We decided, each year, we change it, as I have enought to do 6 haunts easily.
We have props to do these future themes:
Huge Spider theme (use to be the spider tunnel)
Vampire Theme
Huge Cemetary (skeletons and ghosts)
Pumking Patch theme (with scarecrows)
Witches theme
Butcher Shop theme
Silent Hill theme
Haunted House theme (with bulters)
Zombie theme
They might be I am missing right now (L).
So, what is your theme this year?