Discussion Starter
•
#1
•
Hi guys! This year the kids wanted to up the ante on our Nightmare Before Christmas theme and I found Kristie's excellent
http://diynmbcprops.blogspot.com
props website. One thing the kids loved was the Haunted Mansion wreath skull and I thought we could try making it ourselves. One trip to the prop store and we're off making our very first mold and foam casting!
Let me start by saying that Kristie has cast these from an original Disney skull and her's are really awesome.
We started with a block of clay and worked it into the shape of the skull.
Then I mixed up about 5 pounds of silicone from silpak.com and poured the mold.
Mix up a batch of 4lb urethane foam and pour.
Let dry and extract from the mold.
Paint and hang on a creepy wreath!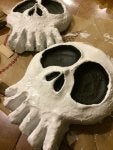 Super fun project and I hope it inspires someone. We've already gotten requests to sell the unpainted skulls and will consider putting them up on Etsy for less than $10 if you want one.
Cheers!
Charlie