Discussion Starter
·
#1
·
Here are the pictures from this years Halloween display. It was the biggest display we've ever done and I was so happy that I finished everything I wanted to and that I wasn't sewing or building anything on Halloween.
The neat thing about our display is that we get alot of adults that appreciate the display. We found out we are getting pretty popular around town and that we are a part of a lot of neighbors Halloween tradition. So many people told us how they look forward to coming by and how they had been excited driving by all week seeing the display going up. My neighbor across the street stopped by as I was packing everything up and thanked me for putting up the display! It was very sweet. Another woman told me that she was on bed rest last year and was upset that she missed last years display so she told her husband that if she only got to one house this year it was going to be ours! She also offered to work if we ever turned our display into a haunt! It was nice to hear from so many people how much they appreciate what we do, it makes all the hard work worth it. Now on to next years plans!!
The band hanging out with the gatekeeper
The werewolf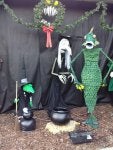 The witches casting a spell with the undersea gal. We also had the glowing coals prop under the cauldron and a small fogger in the cauldron.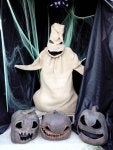 Oogie Boogie scared everyone! We sprayed him with glow in the dark paint and lit him with two blacklights. He looked really creepy and like he was going to jump off the porch!
Vampires with the grim reaper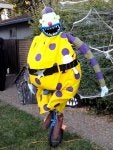 Clown with the tear away face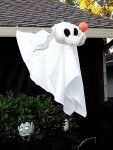 Zero. His pumpkin nose lit up at night
Lock, Shock and Barrel looking over their ToT loot
Harlequin Demon, Devil, and the Mayor
Mayor, Scarecrow and Cyclops
Igor and Dr. Finklestein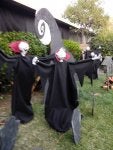 More vampires (a little blurry ...still trying to figure out the new phone)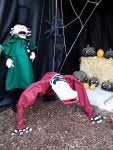 Mr. Hyde and the creature under the stairs
View from the sidewalk