Discussion Starter
•
#1
•
Hello everyone, this is my first time posting here and was hoping i could get some advice or maybe some tips on making Halloween and Christmas decorations for next year.
So for next December i was planning on making a Lifesized evil gingerbread men which will end up looking like this
My plan was to build a skeleton out of pvc pipes for it so i could stand it in a pose outside.(Im also now thinking about maybe making detachable segments at places like the ( knees,waist, neck, and elbow. this would allow me to disassemble it after the holidays and to put it away in the garage easier.)
So a pvc pipe skeleton , then i planned on using some foam to build up on the skeleton to give the flat back but rounded top cookie look.
Does anyone here know whats the name of the foam that is sandable or carvable? it's not insulation foam , i know because i have a 2inch thick chunk in my garage lol
But i have seen this foam in home depot i just cant remember the name unfortunately...
Then i planned on sanding and gluing some eva foam with contact cement and wrapping that around the foam (that i cant remember the name of ) and the pipes like skin.
After than heat it up with a heat gun and kind of give it that wrinkle texture then paint.
For Halloween i plan on making a hook from one of my favorite games right now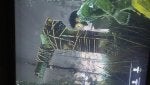 This one i kind of figured out immediately , remember that insulation foam i told you guys about?
Well i figured i'd cut out long rectangle chunks out of that insulation foam i still had , about 8ft(Height) by 1ft(width).
I myself am 5'9 so im trying to make it somewhat scale accurate.
So i have the legs for the hook and ill probably make the top plank part about 4ft (width) and 10inches tall.
Now my biggest problem is how do i keep this thing from falling over? does anyone know of a way i can put counter weight at the base of my hook so it can stnad by it's own?
I was thinking putting bricks at the base and gluing them on somehow hahaha
Also how do i go about painting insulation foam?
I know carving insulation foam is safe with a dust mask but sanding it i would need a respirator.
When i spray paint this i'm assuming id need my respirator as well but i dont know anything about cartridges and wouldnt that mean id need respirators for sand and a seperate pair for painting?
I apologize for how complicated i amde this but this is my first time making some Props for my house.
Thanks in advance guys