Discussion Starter
·
#1
·
I am slowly ramping up my yard to become a walk through grave yard, but the tombstones that I use are strapped to rebar on the back. Great to look at from the front and definitely not blowing over, but I'm a perfectionist so I don't want people to see the back and ruin the effect. So I devised a plan to make hollow wooden tombstones. Unlike you all who live up north and can get 3" thick foam board at the hardware store; down in the south 1" is about as good as it gets and I don't feel like gluing 3 together.
Here's the plan.......2x4 frame with 5mm board faces. fill the void with great foam and voila! lighter weight stones that can sit atop the rebar and stand up to a hurricane.
I took the time and took video and pictures of my progress with hopes of great success.....Let me know what you think.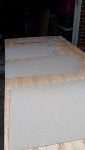 I screwed 2 sheets together to get identical sides even if I messed up.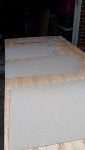 I used RAM Board for the blanks...cheaper than poster board and the right size.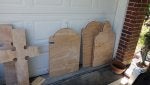 All Cut out and nailed together....love nail guns!!
you can see the space to make them lighter
Void space filled with great foam
excess trimmed off leaving a rough stone like edge
pedestal attached and 1/2 inch hole drilled to accept rebar
coat of thompsons water seal to keep out the moisture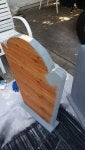 added silica to the paint to give it texture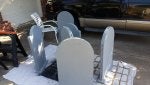 all painted and ready for graphics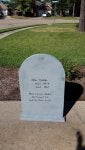 finished product. for this year at least. want to add some weathering to it with my airbrush, but that will have to wait for next season.
In the yard ready for TOT's