Discussion Starter
•
#1
•
After I moved here and produced my first Halloween yard my neighbors asked what I was going to do for Christmas. I had no idea that I moved onto a road where everyone did Christmas displays.
So I slowly transitioned into a Nightmare Before Christmas theme. Each year I just make or add one prop at a time. Finally one year after painting Santa I decided that plywood standups were good enough from here on out. This year was supposed to be a plywood Oogie Boogie. I was going to paint him with UV paint put him inside the screened in porch with black lights on him and light him up.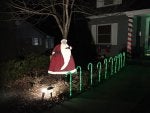 But then my husband found this inflatable costume!
I am not a huge fan of inflatables. But this seemed like such an easy addition. So I threw together a spiderhillpropworks armature his size so I could pose his arms, then I put him outside. But I still want to make him glow. Do you think I can coat him with some UV reactive fabric paint?