·
Blue Pill? or Red Pill?
Discussion Starter
·
#1
·
Most important step: make sure when you faux paint the grain of the cardboard goes vertical, so it will look more like wood grain. I had to toss my second barrel out because I didnt realize this and it looked "odd". Keep this in mind when you cut the cardboard. So sorry for pics sideways not sure why iphone does this.
Step one: Cut and measure how tall wide you want it.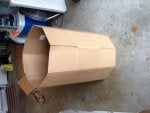 Step 2 : Curl up a bit to soften, so later on you can put pressure on it to make bow out.
Step 3: Paint - I used browns, black and some off white for the "holes"
Step 4: I took a utility knife and lightly cut it down to make it look like "boards", (dont cut all the way thru!!) and really dug in the black
Step 5: Wrap around a round trash can on inside and duct tape.
Step 6: cut with utility knife halfway down top and the bottom as shown. Then with duct tape you taping one on top of another slightly to give it barrel shape top and bottom. Add more duct tape to "create" rings. And you are done.