Discussion Starter
·
#1
·
Awhile ago I came across a photo of some pumpkins that had been carved from the bottom instead of the top and was lit from within with some pumpkin guts hanging down. Turns out they were done by one of the moderators on this site named UnOrthoDox. I loved the look and have decided to make a few of these for our haunt this year. Kudos to Unorthodox for the idea!
Here is what it looks like in the light: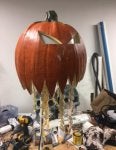 I used a Funkin because I like the thicker "walls" of the pumpkin. I toned down the ridiculous bright orange color by applying a dark wood stain and then immediately wiping most of it off leaving more of the stain in the cracks. I used a PVC "tee" joint held on using zip-ties as a means of mounting it on a pvc pipe.
I used a "weatherproof" lightbulb socket from HD and a red LED bulb. I also used pieces of diffusing acrylic sheet from
www.inventables.com
over the eye holes so you can't see into the pumpkin. I made fake pumpkin guts using liquid latex and elmers orange glitter glue and then hot-glued actual pumpkin seeds on after the latex was dry. I then hot-glued the guts to a piece of pvc pipe for easy mounting inside the pumpkin also using zip-ties.
Close up of the guts.
And here it is in the dark. I am very happy with how it turned out. Love the guts hanging down lit from above but I think for the next one I will use longer pieces of guts. You can never have enough guts.