Discussion Starter
•
#1
•
For my birthday this year I was given this awesome looking metal cauldron, so my brain immediately went to work on how to best incorporate it into our display. We have the rising swamp hag coming out of a stump in our bayou area, so I decided it made most sense next to her. Our bayou area is a "shooting gallery" with laser pointers so kids can set the props off themselves, hence the target on the cauldron. When hit with the laser it sets off a fire and ice style light inside.
I can never leave anything be as is and had to add the little goblin getting his free drink and BBQ.
Big thanks to Oak Lane Cemetery for inspiration and tips on making the brew inside the cauldron.
In daylight: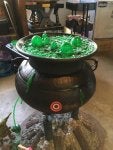 And here are some in the dark. Once it's in the yard I'll work on lighting to make sure the details and little goblin are visible, but this was just to test: