·
Typical Ghoul Next Door
Discussion Starter
·
#1
·
I was posting about this last year when I built it, but I forgot to post the storage of the "collapsable" part of my crypt.
THE BUILD THREAD - step by step pics and info:
http://www.halloweenforum.com/halloween-props/72394-my-crypt-fcg.html
My finished crypt: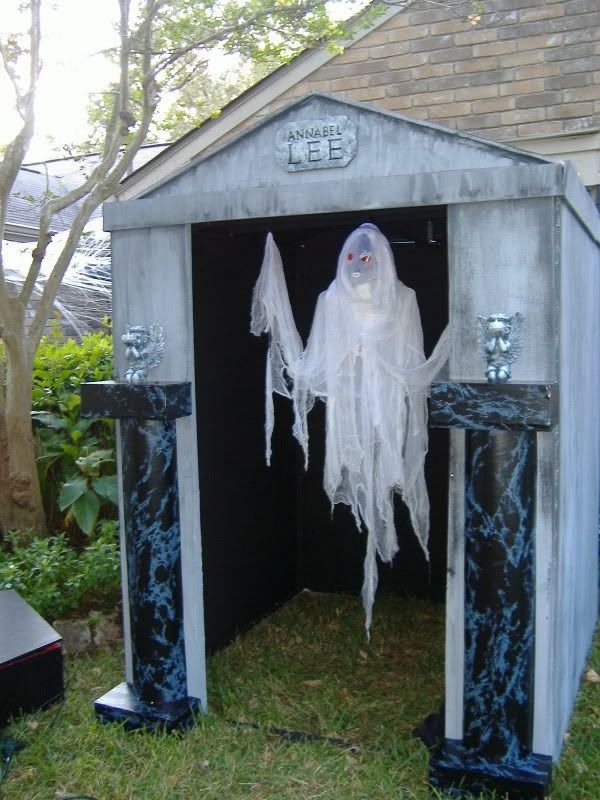 I wanted a basic crypt which looked more substantial than the other small "phone booth" sized crypts. This is a 5 foot square size, with the roof peak reaching 7 feet. I may add more carving or decorations over the years, but it works for what I wanted.
The crypt disassembled and in storage in my garage (the columns are tossed up on the shelf and not in the pic):
Since the walls and roof were all independent sections, I was able to just unscrew a few screws (I believe it was 3 per corner) and lean the flats up against the garage wall. The walls weigh less than 10 pounds each, so one person can easily move them, but the assembled crypt was heavy enough to keep it from shifting around. I did learn that the roof section (completely built of foam) would rip off in medium winds and had to make repairs, and it can't be collapsed as it's all one piece, but even with the roof section taking up some space, the entire crypt only takes up about a 3 feet x 6 foot area of floor space in my garage. If I had the access to something like mdf or a heavier plywood, I might consider making the roof out of that just to add more stability to it, but the crypt walls worked just fine and sustained no damage during higher than normal winds.
I did have to run more velcro for the molding strips that were run around the roof/wall seams and there is a mention of using fishing line to tie off the columns to the walls at the end of my build thread. Most of this build was trial and error, and someone else building something similar probably could come up with a better solution... but for me it was whatever worked at the time!
I think this was a successful build and very different than the typical crypts out there just because it is lightweight and collapseable but doesn't actually LOOK that flimsy.
I'm happy with it - and I think my ghost was too.