Discussion Starter
•
#1
•
Omg I was so excited today to get home from a field trip that my son's class was having where we went to go see a video about bats, and go through a natural cave here in Clarksville. The only thing that could and did top that was to come home all tired out from it and get excited all over again by getting my secret reaper gift from Nookie. Wow what great gifts. I couldn't believe how fortunate I was. Even down to the time taken to get me a gift based on my forum name GOTHIKren. How do I love thee secret reaper let me count the ways....
1. a fabulous candy skull dispenser that talks when you pull a bone arm attachment
2. a talking skull tombstone microphone with lightup eyes
3. a fabulous series 3 "Serpentina Maria Sangria' Bleeding Edge Goths Doll
4. A cake decorating kit from Betty Crocker including press letters (I have been planning to get this kit for a while now, but haven't done so, and this was great because I've been taking cake decorating classes!!!! )
5. Mini muffin ghost shaped cake tins
6. a Gruesome skull/bone mace
7. An incredible costume (black and red sexy robe) I've been trying to figure out what to go as and haven't even gotten to the store to get my costume. Now I have one and it's perfect.
8. A fabulously cute Deja Boo Card
9. A bag from the year round halloween store (Sigh I'm so jealous
)was in the box and has been very appreciated by my cats lol they have been scooting over my presents to get to it which has given me great enjoyment to see them being so silly.
10. Finally the warmth and friendship from a stranger who would go out of their way to do something special for someone else. Thank you so much Nookie I truely love my gifts.
My kitty Bastion is peeking over the edge.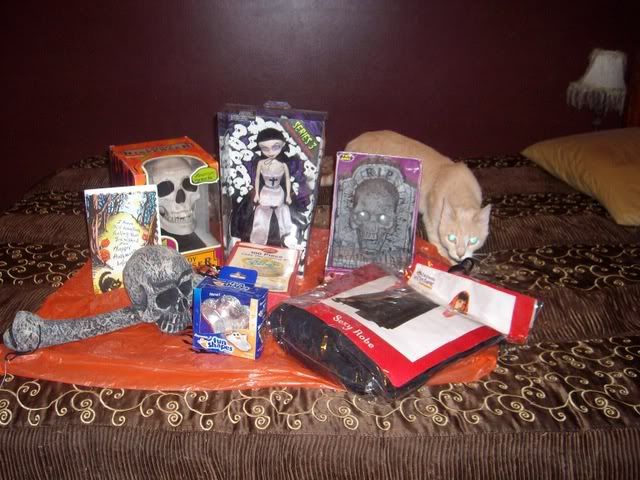 Another shot with Bastion and all my goodies.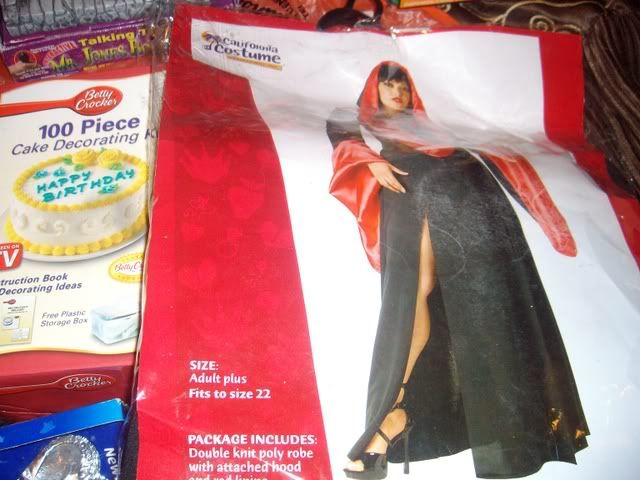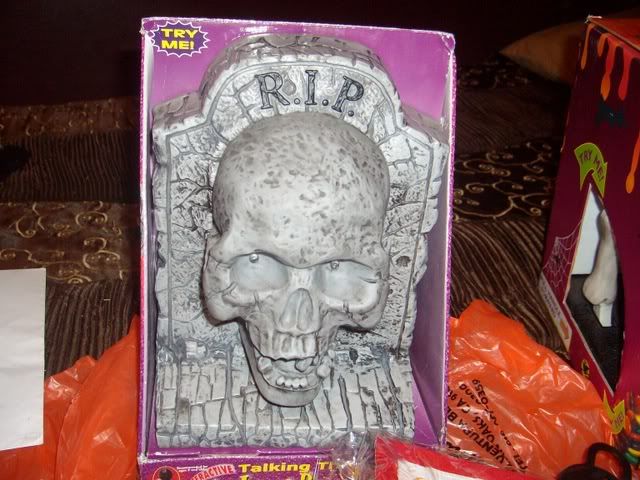 I can't wait to try this out. We looked at some in the stores and hadn't gotten one yet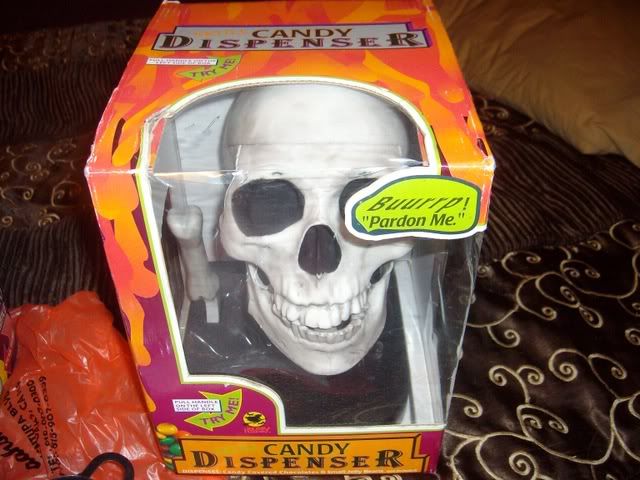 My kids love this already and it's not even out of the box filled with candy yet.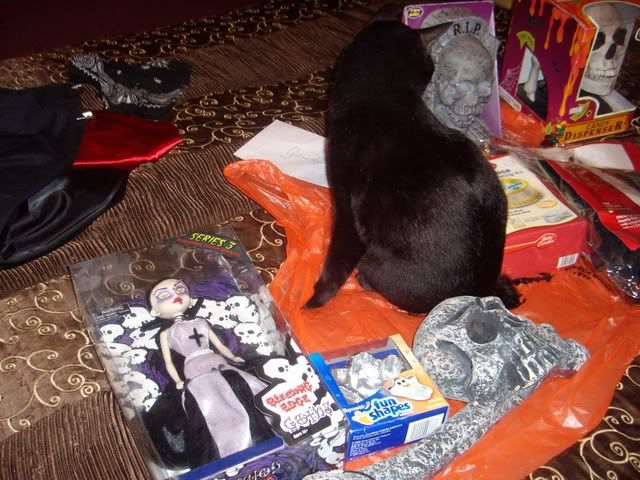 My kitten Binx is in this one with the presents trying to find a place to lay down with my new goodies
BTW Nookie did I say ....... Thanks?