Discussion Starter
·
#1
·
I have a couple of pictures of my prototype. I will take a bunch of new pictures as I make the other three skulls, but this should give you an idea of what I am doing.
I am making a singing quartet based on (That means idea stolen from) Mike C's Graveyard Quartet. Ever since I saw his video I couldn't get it out of my head.
A neighbor of mine with a machine shop has helped me with the prototype, machining some of the parts I needed, and helping with the design.
I have been using the prototype to do some programming to make sure it all works with Brookshire's VSA software. So far, so good. I will post detailed pics of every step as I start making more skulls, but for now, here's a couple of basic shots with labels on them.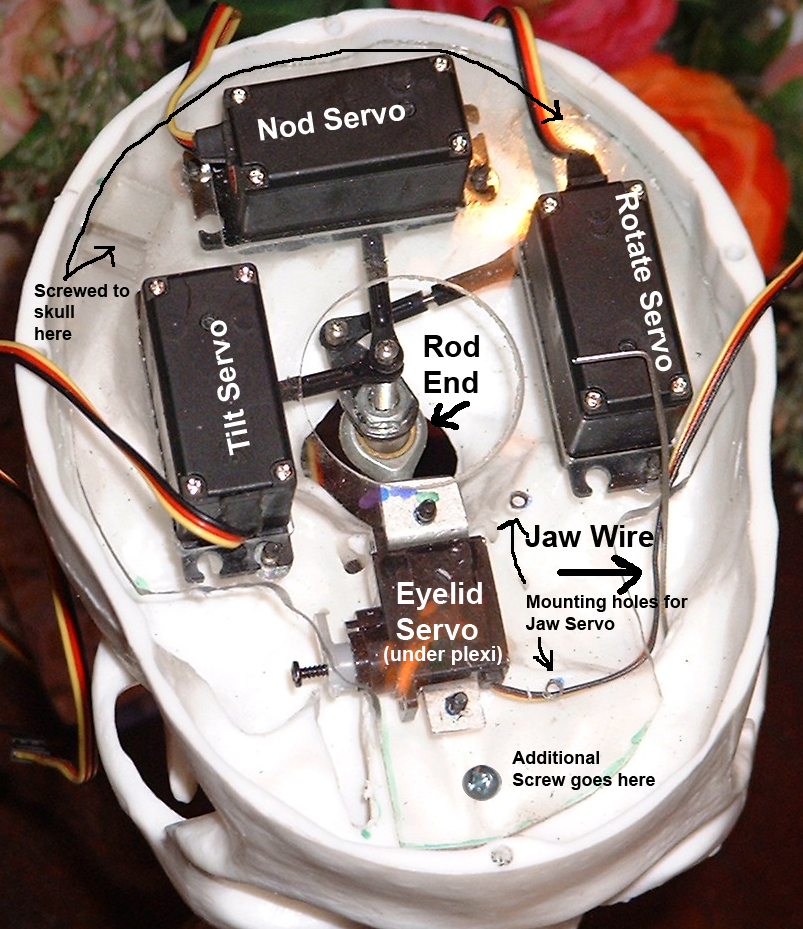 The Jaw servo was not mounted yet in this pic. It is in now. You can see the mounting screws and the linkage wire in the pic. The servo mounts standing up on end. I will add pictures of that later. The eyelid servo is mounted under the plexi-glass. That one is not hooked up yet, but when it is, it will be attached to one of the eyeballs...I am using wooden balls for eyes. It will move it up and down, not side to side. The purpose is to make it appear that it is blinking. I have large fake eyelases that will be attached to the eyeballs. When the eye is moved down, it appears to be closing as the top eyelid moves down with it. In the pic below, you can see the slot cut in the eye socket where the armature will go to move the eyeball. Don't worry, I will post pictures of that as well. I am using a 3/16 rod end as the gimbal which allows movement in all directions. When I build the next one, I will have clear shots of that as well.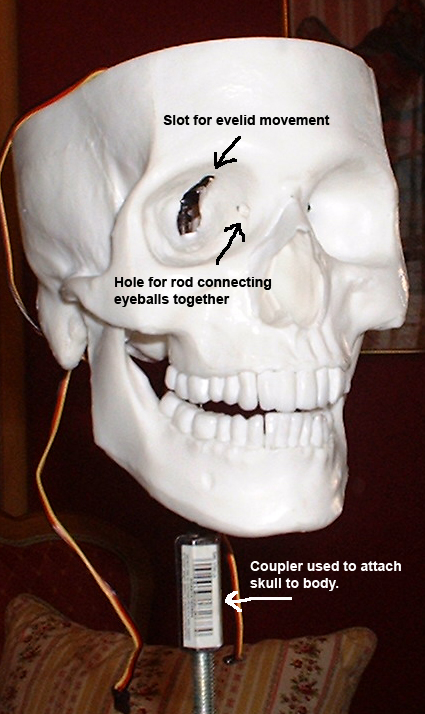 Feel free to ask questions, and I will answer as best I can. I now have it hooked up to VSA and it is working very well. I am using the lightweight Pirate Skull and so I do not need springs, elastics or counterweights.