Discussion Starter
•
#1
•
MONSTER WASP - PART 6: WINGS AND TAKING FLIGHT!
Continued from here:
http://www.halloweenforum.com/halloween-props/151914-monster-wasp.html
WINGS
9 gage wire
Painted 4 mil plastic sheet
Zip ties
Cling wrap
Marker
Will refine them if they actually work.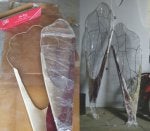 Wing Mounts
Had to curl the wire to put on the elbow, then straighten back out.

A Corel sketch of the lifting to make sure I had all the hardware I needed
(and to keep my sanity)
I tested the rig with free weights before bringing out the wasp.
Wasp in position

Leg ends applied and rig pulled away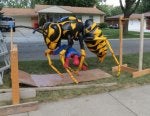 Testing the lifting rig before adding the wings.

My PVC coring rig for the wing mount holes
These mounts are pretty damn secure!

Fishing line to the lifting buckle helps hold the wings at this angle.
MAIDEN FLIGHT OF THE MONSTER WASP
Safety tape for safety's sake!
Totally calm day – I need some wind to expose any weak points!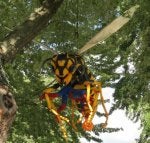 Concept Sketch and the Big Bug
Coming in October
ART 7: Refinements and Lighting!