Discussion Starter
•
#1
•
Picked up these last year from HD and was inspired as our house has a cemetery theme.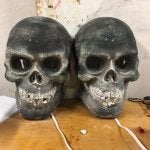 I wanted to mount them on the columns on either side of our front door so I cut the back of the skulls off using a jig saw and then epoxied a piece of wood towards the top to act as a mount. Originally they had small LEDs for eyes which just wasn't going to work for me. I wanted some drama! I cut out holes for the eyes and nose and then later I also used my dremel and a hacksaw to cut openings around the teeth. For lighting I tried several options but finally settled on using 2 of the "flame" leds - one in front of each of the eyes.
These
are the ones I used (from Amazon). I originally used just one bulb in the middle but when you looked at the skull directly you could not see it and I just didn't like it. I used weatherproof light sockets from HD and wired the 2 bulbs together.
This is what they look like in the dark. I will mount them on the columns so there is a bit of a gap between the wall and the skull so some of the light leaks out and creates a frame around the skull.